Hackers are going after election systems, and cybersecurity experts are concerned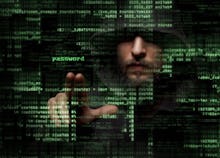 Hackers are coming for United States democracy. 
A senior Department of Homeland Security official told NBC News on Thursday that hackers have tried to attack more than 20 state election systems. 
"We are absolutely concerned," the DHS official said to NBC News. "The concern is the ability to cause confusion and chaos."
To note, attempts to infiltrate systems do not include voting machines, since these aren't connected to the internet and aren't vulnerable to hackers. Hacking attempts are made targeting online systems, including registration databases. 
Of the more than 20 attacks mentioned above, two were successful. Hackers got into the online registration databases in both Illinois and Arizona, NBC News reported. 
In response to these attempted attacks, the DHS has been urging states to undergo free cybersecurity checks ahead of Nov. 8. Secretary of Homeland Security Jeh Johnson told a congressional committee this week that 18 have signed up. 
As for the DHS' concerns of "confusion and chaos" that could stem in response to hackers poking around in election systems? They may be valid. 
Cybersecurity firm Carbon Black surveyed 700 voters and found that 56% of respondents are afraid the election could be influenced by a cyberattack, the Washington Free Beacon reported. Of respondents, 58% said they believe an electronic voting machine hack on Nov. 8 is "likely." 
Of the 36% of respondents that said they believed their information was insecure, one out of every five said they may stay home on election day. 
A hack that targeted the Democratic National Committee has been attributed to the Russian government, the Washington Post reported in June. The hacks on Illinois and Arizona have also been linked to Russia. Intelligence officials have told NBC News that there is "no doubt" there are attempts to impact the election by the Russian government. CBS News reported that "more than a half-dozen cybersecurity experts" echoed the same sentiment, adding that the chances for more attacks until Election Day are "high." 
"At the least, this effort is intended to sow doubt about the security of our election and may well be intended to influence the outcomes of the election — we can see no other rationale for the behavior of the Russians," Sen. Dianne Feinstein and Rep. Adam Schiff said in a statement, NBC News reported.
And while a majority of the hacking attempts were ultimately unsuccessful in their ability to breach the systems, based on the aforementioned survey, they are certainly successful in instilling fear in voters. Enough to have them sit this election out.