'Luke Cage': Misty Knight is already a fan favorite — but she's got a long comics history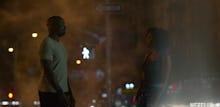 If you've started off your Friday with an early binge of Netflix's latest Marvel series, Luke Cage, then chances are you're already impressed with Misty Knight, as played by Simone Missick. 
(Editor's note: Spoilers for the first two episodes of Luke Cage ahead). 
The detective can school basketball players on the streets of Harlem in a game of Horse, visualizes crime scenes with meticulous, Hannibal-esque detail and sweeps the titular Cage off of his feet at Cottonmouth's nightclub, Harlem Paradise. And that's just in the first two episodes. 
Viewers on the Twitterverse are already naming her a fan favorite, and someone they'd aspire to see in her own spin-off series. 
Whether or not Knight gets a spin-off series is up in the air — though Missick has confirmed that her character will be appearing in Netflix's The Defenders series, which will be coming out sometime in 2017. Until then, it potentially opens up the chance for Knight to follow the narrative path of her character in the comics. 
In the comics, Knight sports a bionic arm constructed by Tony Stark, aka Iron Man, after she loses her hand when a bomb explodes while she's on the job. She has canonical romantic history with Cage — as their early-in-the-series hookup alludes to — as well as Iron Fist, who will have his own Netflix series in 2017 (before The Defenders is released, since he's slated to appear in both). 
Knight, then, should be a Marvel mainstay for the foreseeable future. However, fans should temper their expectations for the character having a bionic arm, as intriguing as it sounds. Netflix's Marvel series are effective and critically praised, in part, because the shows are grounded in a sense of realism — essentially, the opposite of the CW's campier superhero series. 
Consider that the characters don't exude the quirky superpowers and outfits with the same intensity as the comics. It took Daredevil an entire season before he actually had a superhero costume; prior to that he wore a bandana over his face while fighting crime. Jessica Jones' widely praised villain Kilgrave wears purple-tinted suits, instead of his absurd purple skin in the comics. On Luke Cage, main antagonist Cornell "Cottonmouth" Stokes doesn't have the literal razor-sharp teeth of his comic book counterpart, and doesn't need them in order to be intimidating. 
To that point, Knight probably won't have a bionic arm — but that doesn't make her any less of a badass, as the early episodes of Luke Cage have indicated. 
All episodes of Marvel's Luke Cage are currently streaming on Netflix.