How Solange Knowles has evolved from Beyoncé's sister to R&B queen in her own right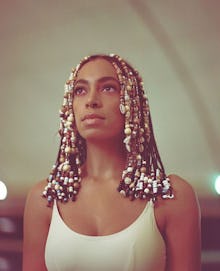 Solange Knowles dropped A Seat at the Table on Friday, inviting fans to take a seat with one of the most famed musical families as they discuss their thoughts on racial relations in America. Even in its quietest moments it contains multitudes: It features conversations with her mother and father, Tina Beyincé-Lawson and Mathew Knowles, mogul talk with Master P and playful harmonies about black girl magic from Nia Andrews & Kelly Rowland.
It feels like a breakout moment for the star. Perhaps, for the first time in her career, her release has generated a level of excitement among critics and fans on par with that her older sister, Beyoncé usually receives. However, Solange is very much her own identity. She's long worked to cultivate a diverse career rooted in New Orleans with jazz, modern R&B and old school influences into a sound that's separate from her older sister's commercially accessible brand. 
And she's been doing it her whole life.
Solange released her first album Solo Star at just 15 years old, a mellow-pop project produced by a number of notable producers including the Neptunes, Timbaland and Linda Perry. Though her first project was released under her father's direction and music label Music World Music, the budding star made sure her music stood apart from her older sister's chart-topping girl group Destiny's Child. 
"I'm a star just being by myself," the singer told MTV in 2002 about her forthcoming debut. "I really wanted people just to get to know Solange on my first album, just to establish Solange's sound, just to establish Solange's personality ... A lot of writers, you know, they don't even have enough time to spend with me and to really get a feel for me, so it turns out sounding like Destiny's Child, and I have to do the whole song over."
Her second album, Sol-Angel and the Hadley St. Dreams, featured an infusion of soul, pop, blues and contemporary R&B. Fans who fell in love with the young soulful Houston-bred singer waited six years for Knowles' sophomore album as she went through an array of life's triumphs and pitfalls. She lost her best friend to gun violence, became pregnant with her first child and married her first husband at 17 years old before later divorcing at 20. She became financially independent and bought her first home at 19 years old. 
The Motown-inspired project showed Solange gaining an even tighter grip of her own sound and vibes, injecting these elements of her story into emotional, albeit funky bops and ballads. The album also showed the artist stepping out into unchartered territories, experimenting with wobbling rhythms and transcendental melodies on "Cosmic Journey" featuring Bilal.
Though Solange's 2012 EP True was her shortest release yet and arrived a full four years after her second album, the project was lauded as her most grounded work to date. It's when the singer truly began creating an individual style and sound. "True marks the sound of a singer hitting a graceful stride, in her own time and on her own terms," Pitchfork wrote in its review. The publication noted her last release "often [reconciles] girlish optimism with worldly wisdom as though the two are one and the same." 
Knowles later took issue with certain language in that review, which characterized her as the "ideal female vocal muse" for her collaborator Dev Hynes. "How can one be a 'vocal muse' to their own melodies, storytelling and words they wrote?" she said at the time. With A Seat at the Table, she's worked to build out that presence even more, so no publication could possibly try to erase her agency.
There's no arguing Solange's latest album is her most expansive and visionary project to date. The 21-track album comes with a 112-page digital photo and lyrics book celebrating black beauty. A Seat at the Table continues Solange's track record of penning personal ballads to love, failed relationships and finding the beauty in life's genuine treasures: friends, family, community and the solace of one's interior world. 
The album, largely penned by Solange herself, is described on Apple Music as "a confessional autobiography and meditation on being black in America." It brings in some of the finest rising talents in black music and creates space for them to do some of their best work. Certified icon Lil Wayne spits an incredible verse on carrying his city of New Orleans in "Mad." Kelela offers some show-stopping harmonies on "Scales" — so staggering, in fact, Solange has been afraid to book a tour with the singer.
Solange has never lived underneath her older sister's shadow, as easy as it's been to write her off as doing so. She's been busy creating a space in the music industry that's entirely her own. In a year which has produced a steady stream of major releases, she's finally standing firm in her own arena — and all eyes are on her.