Mary J. Blige interviewed Hillary Clinton, and the internet is freaking out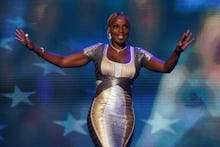 Grammy Award-winning R&B hitmaker Mary J. Blige sought to humanize Hillary Clinton in an interview. While speaking with Blige, Clinton discussed her faith, family and how she's dealt with the heated attacks she'd encountered during her more than three decades in public life.
"I remember when I first met you at the [Democratic National Convention], and I was waiting backstage 'cause I was going to sing for you that night, and when you showed up the nerves calmed down and the reason why I calmed down was because you were so beautiful, you were so down-to-Earth, so organic so real and you just looked like you were having a ball," Blige said on her new internet show, The 411, which posted its first episode Friday on Apple Music.
"I wanted people to get a change to know who you are behind the politician, because I don't think people give you a fair chance, they're constantly after you and I don't like it," Blige added.
Clinton said that some of the attacks on her are "manufactured," while other criticisms are valid.
But Clinton told Blige it's her faith that helps her get through tough moments in her life.
"I feel very supported, lifted up, guided by my faith," Clinton said. "I have been in lots of difficult situations and I find that falling back on my faith, relying on my faith, looking for those moments of grace is what can get me out of bed in the morning and keep me going no matter what's happening around me. Being a person of faith has sustained me over the course of my life."
The most memorable moment of the interview came when Blige sang to Clinton about police brutality.
Blige sang Bruce Springsteen's "American Skin" to Clinton.
Twitter exploded, calling the moment uncomfortable.
You can watch the entire interview on Apple Music.