Amber Rose speaks out about feeling "body shamed" on 'Dancing With the Stars'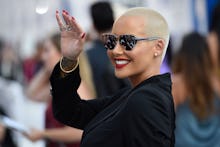 Don't mess with muva.
On Friday's episode of her podcast Loveline With Amber Rose, actor and model Rose discussed Tuesday's episode of Dancing With the Stars, where she performed a salsa dance to "Booty," Jennifer Lopez's ode to derrieres.
During the routine, Rose's partner, Maksim Chmerkovskiy, dipped Rose over his knee (you can see it at the 0:55 mark below). DWTS judge Julianne Hough reportedly commented that the routine made her "uncomfortable," prompting Rose to respond.
"It was a point in the dance where I had to lift my leg up and Maks dipped me and [Julianne] said, 'Oh, I'm uncomfortable,' and instantly I felt, I did feel body shamed," Rose said. 
Rose pointed to what she saw as the contrast between the way many professional dancers are discussed on the show when they dip and bend, and how she was discussed when she did the same thing. 
My "body, my hips, my ass, my breasts made [Hough] feel uncomfortable," she suggested.
Setting aside, for a moment, the possibility that Hough thought Rose's performance was so awful it caused her discomfort, there is perhaps no clearer metaphor for the double standards faced by curvy women — and black women in particular — simply for existing in their bodies in public. 
It's especially stark in this case, since Rose was assigned to dance salsa to a non-salsa song that explicitly celebrates big butts. 
Subsequently, when Rose complied with the show's directive, she felt shamed by what she saw as Hough's response to her body. It's standards like this that similarly sparked the internet shaming of #TeacherBae, the Atlanta-based educator who was lambasted earlier this month for wearing form-fitting dresses to work.
"There's no way for a healthy [black female] sexuality to be imbibed by the public." — Prof. Treva B. Lindsey
Mic has also reported on how the internet conceptualizes curvy rap artist Nicki Minaj solely through the lens of sex, and how that reflects the limiting way in which the public often perceives black women and their bodies.
"We view every line, every simile through the lens of sexual acts, and that's deeply problematic," Treva B. Lindsey, associate professor of women's studies at Ohio State University, said in an interview. "It's this exclusively hypersexualized 'You think you have access to her body,' and Nicki is always having to confront that." 
Lindsey contrasted that view with people like Leslie Jones, highlighting that black bodies are either sexualized or denigrated — two opposites at work in Rose's dance. 
"People denigrate Leslie Jones as somebody they don't want to have sex with — it's this offensive, deplorable way of talking about her body," she said.
Though Rose felt body shamed, she said on the podcast she is not mad at Hough, and instead wants to educate her — both about her response to Rose, and about herself.
"I'm an activist feminist, this is what I do. I educate. I want to educate her and let her know why that was offensive," Rose said. "It's also very hypocritical for the dances that she has done, because obviously I came home and YouTubed her, and I'm like, 'Wow, she dances one, very beautifully, but also very sexy.'"