Video of the fatal police shooting of 6-year-old Jeremy Mardis has been released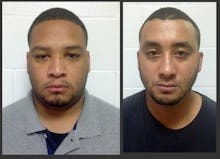 The police body camera footage showing the November 2015 shooting death of 6-year-old Jeremy Mardis was released on Wednesday as part of a preliminary hearing in the charges against the two deputies involved in the shooting, Officer Norris Greenhouse, Jr. and Lt. Derrick Stafford, the New York Times reported on Thursday. 
The young boy was shot and killed during a car chase in Central Louisiana on Nov. 3, 2015. Around five minutes of released footage, which is graphic, can be seen here. In the audio of the footage, Stafford can be heard saying "I never saw a kid in the car, man," the Times reports.
Mardis was buckled into the front passenger seat of an SUV driven by his father, Christopher Few, when deputies engaged in pursuit. According to the Times, prosecutors say officers fired 18 times into the vehicle. Mardis was hit five times, and was pronounced dead at the scene. His father was wounded. In the footage released Wednesday, Few can be seen bleeding, slumped out of the driver's side window. 
In the audio that accompanies the released body cam footage, an officer can be heard saying "There's a juvenile" just after the shooting. "Is he hit? The driver?" someone can be heard asking. Later, an officer can be heard saying, "This kid is."
The release of police body cam footage to the public has been a pressing issue of late, particularly after the recent police shooting death of Keith Lamont Scott in Charlotte, North Carolina. Though the Charlotte-Mecklenburg Police Department initially said it had no plans to release body cam footage of Scott's death, it eventually released the videos amid public pressure.
After Mardis' death, Greenhouse Jr. and Stafford were separately charged with second-degree murder and attempted second-degree murder, the Associated Press reports. According to the AP, an attorney for the prosecutor's office claims that Stafford had a history of excessive force.