Hillary Clinton 2016: Latest polls and updated projections for presidential election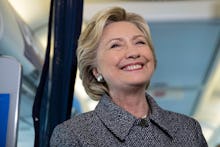 This is your one-stop shop for all election updates related to Hillary Clinton. There are numerous polls and projections that help indicate whether the Democratic presidential nominee will capture the White House in November. 
Here is the state of the race for Hillary Clinton on Friday, Sept. 30. Mic will update this post if there are any major swings in the presidential election.
Rising poll numbers
Polls have shown the presidential race tightening in recent weeks. But as Donald Trump's poll numbers have risen, so has Clinton's support. She now holds a roughly three-point lead in the RealClearPolitics poll tracker with about the highest level of support — 43.9% — she has seen in polling since mid-August.
Positive state polls
New post-debate state polls show Clinton has large leads over Trump in Michigan and New Hampshire. Another poll gives Clinton a four-point advantage in Florida. 
Post-debate national polls have yet to be released. 
Projections. Clinton's chances remain strong. FiveThirtyEight and the New York Time's the Upshot continue to project a high chance the Democrat will win the election.
Today's graphic. Clinton's favorability rating remains low, but it has improved since the primaries. However, a majority of Americans have not viewed Clinton favorably since mid-2015.
– Will Drabold
Mic has ongoing presidential coverage. Please follow our main election hub as well as coverage of Donald Trump and Hillary Clinton.