Pro-gun Yelpers obliterate Houston pizza shop page for banning firearms from restaurant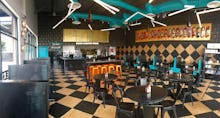 While a restaurant is usually judged by the quality of its food, service and ambiance, Yelp's open forum has enabled those with strong opinions — read: Americans — to decimate businesses and their owners for reasons beyond finding a fly in one's soup. 
Most recently, a group of pro-gun citizens spammed the Yelp page of Houston restaurant Pi Pizza, which, notably, does not permit firearms on its property.
While the state of Texas does have an open carry law, business and private property owners have the right to forbid guns on their premises. Pi Pizza's policy is just so; firearms are banned on its property. 
Here's how it all went down: A Texas man named Kyle Kelly incited a feud between the pizza joint and a group of firearm fans after declaring his disappointment with the policy on Facebook, according to Munchies. The Facebook scuffle between Kelly and the restaurant led Texas 3006, a gun rights group, to post a screenshot of the argument on its Facebook page and deem the restaurant a hostile business.
Once Texas 3006 uploaded the post, it didn't take long for members of the group to start bashing the restaurant on several social media platforms, including Facebook, Google and — of course — Yelp. 
Many of these reviews have little, if anything, to do with dining at Pi Pizza. The above reviewer, for instance, merely comments that the food was "mediocre" and spends the rest of the review discussing the scuffle between the business owner and Kyle Kelly.
Pi Pizza's Yelp page is currently under an "Active Cleanup Review" while Yelp staffers work to remove any bogus reviews that don't reflect the restaurant's food or service.
How much damage can a bunch of bad Yelp reviews do? 
In short: a lot. According to an article from Vendasta, a platform geared toward helping businesses with sales growth, Yelp can play an immensely important role in a business's success. "As Yelp becomes a more dominant social-local platform for online reviews, it's time for businesses to recognize the power of Yelp reviews," Vendasta wrote. "With over 142 million users on Yelp each month and a major influence on google's local search engine results, Yelp can really help or hurt small businesses." 
Pi Pizza's Yelp page is hardly the first restaurant to become a stomping grounds for Yelpers to air their political grievances — and it certainly won't be the last. After Ahmad Khan Rahami was arrested as a suspect for the Manhattan and New Jersey bombings this month, internet trolls sped over to Yelp to obliterate the ratings of First American Fried Chicken, a New Jersey restaurant owned by Rahami's family. 
Yelp listings can often transform from simple review aggregators to modern-day platforms for political discourse. Where should the service draw the line between judging a business based on the taste of its food versus the taste of its politics? For now, it seems like the customers will decide.