VP debate livestream 2016: Here's how to watch Tim Kaine vs. Mike Pence live online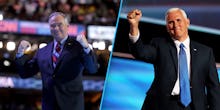 Just a week after Donald Trump and Hillary Clinton went head-to-head for their first presidential debate, running mates Mike Pence and Tim Kaine will take the debate stage for their first, and only, one-on-one verbal sparring match.
Longwood University in Farmville, Virginia, will host the October 4 vice presidential debate, which major news channels like ABC, CBS, NBC, FOX, C-SPAN will broadcast.
But no need to fear — the cord-cutters among us still have a few ways to watch Kaine, a.k.a. America's dad, and Pence, best-known for inspiring the Twitter joke "Mike Pence None the Richer," face off. 
How to watch the VP debate live online
Viewers can watch live streams of the VP debate on Twitter, Facebook — which is teaming up with AOL to stream the event on Facebook Live — and YouTube.
And for good measure, here's a vice presidential debate drinking game to consider. Happy streaming.
Mic has ongoing presidential coverage. Please follow our main election hub as well as coverage of Donald Trump and Hillary Clinton.