Alabama Chief Justice Roy Moore suspended for trying to block same-sex marriage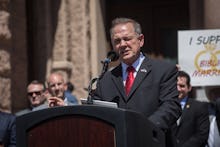 Alabama Chief Justice Roy Moore, who once ordered a two-and-a-half-ton monument of the Ten Commandments to be placed in the lobby of the Alabama Judicial Building, has been suspended for the rest of his term after allegations that he tried to stop same-sex marriages in the state by ordering judges in the state to act against the 2015 Supreme Court decision that made marriage equality the law of the land.
Local outlet WBRC reported that Alabama's Court of the Judiciary decided, after an ethics trial that began Wednesday, to suspend Moore without pay for the rest of his term as chief justice, which, according to the New York Times, ends in 2019. The decision, announced Friday morning, went into immediate effect.
The final judgement released by the Court of the Judiciary on Friday stated that Moore was guilty of violating judicial ethics and of ignoring federal law. 
Moore was previously removed from the Alabama bench in 2003, after he refused to removed his massive Ten Commandments monument, but was restored in 2012 after being reelected to his old chief justice position. He has also made two bids for governor of Alabama and toyed with a presidential run in 2012. Earlier this year, the Times reported, he referred to the LBGTQ rights movement as a "wasteland of sexual anarchy."
The Southern Poverty Law Center, which filed ethics complaints against Moore, released a statement on Friday after his suspension came down. "The Court of the Judiciary has done the citizens of Alabama a great service by suspending Roy Moore from the bench," said SPLC President Richard Cohen in the statement from the organization. 
"He disgraced his office and undermined the integrity of the judiciary by putting his personal religious beliefs above his sworn duty to uphold the U.S. Constitution."