Utah Senate candidate Jason Christensen calls alleged gay teen suicide a "murder"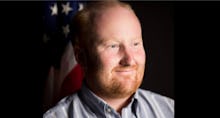 Utah state senate candidate Jason Christensen drew controversy this week after homophobic comments posted from his Facebook account went viral, according to reports from NewNowNext and local CBS affiliate KUTV. 
The trouble started after Christensen commented on a Facebook post from a local community member about Braxton David Taylor, a 19-year-old from Kaysville, Utah, who allegedly died by suicide on Sept. 23, according to a Reddit post published Thursday.
"Yes, this is sad, and hopefully God will have mercy on both sins that this boy committed," the since-deleted comment from Christensen's account read. "The sins of homosexuality and the sins of murder."
Christensen's comments appeared under a link to the teen's obituary. Screenshots of Christensen's comments garnered further attention from a variety LGBTQ websites — including Punk Out — following the Reddit post.
Christensen's personal Facebook and Twitter accounts have also since been deleted. On Saturday, he told Mic he was sorry for what he wrote on Facebook.
"My comments during the family's mourning were ill-advised," he said. "My foot-in-mouth disease got the better of me and I truly apologize to the family. I hope they can accept my apology."
He added, "Suicide in general, no matter what someone may be going through, is a serious problem in this day and age."
Christensen is a member of the ultra-conservative Independent American Party. He describes himself on his campaign website as a "principled leader," who, if elected, "would eliminate all marriage laws," and rails against the "evil communistic agenda" that "aims to present homosexuality" as "normal, natural, healthy."
"Read the scriptures," Christensen wrote in response to commenters who criticized him on Facebook. "Stop denying the scriptures. I do feel bad for [Taylor] and his sins. But one must recognize what's sins and what is not sin."
Mic has been unable to independently verify that Barxton Taylor was gay, or that he died by suicide. But the initial Facebook post where Christensen commented described Taylor's death as an LGBTQ suicide. Numerous comments implying the same have also appeared in a post on a "Recovery from Mormonism" web forum hosted by exmormon.org.
Some commenters on the same thread postulated a potential link between Taylor's alleged suicide and the increasingly anti-gay policies of the Church of Latter-Day Saints.
Though it is unclear whether Taylor himself was in fact Mormon, the LDS church exerts significant political and cultural influence in Utah (6-in-10 Utah residents say they belong to the church). In 2008, the Atlantic uncovered that up to 40% of the funding to pass the anti-gay California law Proposition 8 actually came from the LDS church — and, according to the Daily Beast, the church also excommunicated all children of gay couples in 2015.
Many parents of LGBTQ children also credit such policies for Utah's uncommonly high suicide rate, which is nearly double the national average. Suicide is now the second leading cause of death for state residents ages 18 to 44. The youth suicide rate, meanwhile, has tripled in the last 10 years.
"Too many young LGBTQ people in Utah are hearing damning and damaging messages about who they are," said Troy Williams, the executive director of LGBTQ rights organization Equality Utah. "They are being told repeatedly that their impulse to love another human being will exile them from their family, their faith and their community." 
Williams called Jason Christensen a "fringe candidate." He denounced the state senate hopeful's "vile comments" about Taylor as "unbecoming of person who aspires to represent Utahns." 
"The most important work we can do now to halt suicides is to send a bold message to all LGBTQ youth that they are powerful, they belong, and there is a beautiful future we can create together," Williams said.
Though Jason Christensen has shown little love for LGBTQ communities, a mod of the LGBT subreddit — in which the post about Taylor's death and Christensen's comments was originally shared — asked people to not attack him, but rather to direct their efforts and energy toward bettering the lives of LGBTQ youth instead.
The mod's statement, which is pinned to the top of the Reddit post, reads: 
Hello r/lgbt-ers and guests from /r/all! While this guy is a public figure and obviously a horrible human being, we cannot condone a which witch hunt and will be removing all additional contact information and temporarily banning anyone sharing it.
The Utah state senate election will be held on November 8.