Here's what you need to know about the Trans-Pacific Partnership, or the TPP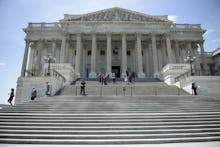 Tuesday night's vice presidential debate between Republican Mike Pence and Democrat Tim Kaine was expected to bring several hot-button debate topics to the stage. Among the items likely to come up during the hour-and-a-half-long debate was the Trans-Pacific Partnership, or TPP, a cornerstone of President Barack Obama's foreign policy legacy — one that's been criticized by conservatives and progressives alike as possibly favoring foreign competitors over U.S. manufacturers. Obama signed the trade deal in February. 
What is the Trans-Pacific Partnership?
It's a trade deal between the United States, Canada, Mexico, Australia, New Zealand, Peru, Chile, Japan, Vietnam, Malaysia, Singapore and Brunei.
According to the New York Times, the group of TPP nations has an annual gross domestic product of $28 trillion, "roughly 40% of global GDP and one-third of world trade."
The White House says the deal will "eliminate over 18,000 taxes various countries put on Made-in-America products."
In August, Senate Majority Leader Mitch McConnell said the bill will likely not be voted on in Congress this year. "It will still be around. It can be massaged, changed, worked on during the next administration," he said, according to the Hill.
Where do the candidates stand on the TPP?
Both Kaine and Pence have changed their position on the TPP since being selected as vice presidential candidates.
In 2014, the governor of Indiana tweeted his support for the deal.
In July, after being chosen as Donald Trump's running mate, Pence said he was open to re-negotiating TPP and NAFTA, the 1994 North American Free Trade Agreement between the United States, Canada and Mexico.
"I've always supported free trade and Donald Trump supports free trade as well.  Trade and commerce supports American jobs and supports growth in this country," Pence told Fox News' Sean Hannity. "But I think when we elect one of the best negotiators in the world as president of the United States, I'm open to re-negotiating these trade agreements. NAFTA actually had a provision in it that's now 20 years old that we were supposed to review NAFTA again and again and ensure that it was working for Americans.
"I think looking again at NAFTA, looking at bilateral trade agreements instead of multilateral, that's a policy I can strongly support," Pence said.  
Trump has expressed his opposition for both trade agreements.
"NAFTA is the worst trade deal maybe ever signed anywhere, but certainly ever signed in this country," Trump said during his Sept. 26 debate against Hillary Clinton.
"And now you want to approve Trans-Pacific Partnership," Trump continued against Clinton. "You were totally in favor of it. Then you heard what I was saying, how bad it is, and you said, I can't win that debate. But you know that if you did win, you would approve that, and that will be almost as bad as NAFTA. Nothing will ever top NAFTA."
Tim Kaine was also for the TPP before he was against it. The day before he was selected as Clinton's running mate, Kaine had praise for the trade agreement.
"I am having discussions with a lot of groups around Virginia about the treaty itself. I see much in it to like," Kaine said, according to Politico. "I think it's an upgrade of labor standards, I think it's an upgrade of environmental standards. I think it's an upgrade of intellectual property protections."
A few weeks later, he told NBC's Meet the Press that he hadn't flip-flopped.  
"I was a strong supporter a year ago of giving President Obama the ability to negotiate a trade deal. But I said at the time, when that deal was done and on the table, I was going to look at it very carefully," Kaine said. "And I even expressed a very serious concern I had with how it was developed, which is that companies were given rights to enforce provisions, but the labor and environmental provisions could not be effectively enforced. That was never fixed."
Kaine's evolution mirrors Clinton's.
"I did say, when I was secretary of state, three years ago, that I hoped it would be the gold standard," she said during a Democratic primary debate in October 2015. "It was just finally negotiated last week, and in looking at it, it didn't meet my standards. My standards for more new, good jobs for Americans, for raising wages for Americans. And I want to make sure that I can look into the eyes of any middle-class American and say, 'this will help raise your wages.' And I concluded I could not."
At the Sept. 26 presidential debate, Clinton repeated that she simply changed her mind on TPP.
"The facts are — I did say I hoped it would be a good deal, but when it was negotiated which I was not responsible for, I concluded it wasn't," she said, according to a transcript.
Mic has ongoing presidential coverage. Please follow our main election hub as well as coverage of Donald Trump and Hillary Clinton.