Tim Kaine's stance on gun control: Why the candidate's firearms position may surprise you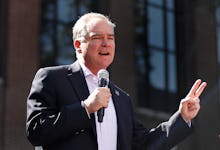 This Tuesday, Virginia Sen. Tim Kaine will test his debate mettle against Indiana governor Mike Pence. Kaine, Democratic nominee Hillary Clinton's pick for vice president, and Pence, VP pick for Republican nominee Donald Trump will, inescapably, discuss gun control. So how does Clinton's potential running mate stack up?
Kaine, reportedly picked to partner with Clinton thanks to his progressive beliefs, is a big second-amendment proponent in Virginia. But even though he's a gun owner himself, Kaine's version of being pro-right-to-bear-arms doesn't mean turning the country into the Wild West. 
Tim Kaine's stance on concealed carry laws
As Governor of Virginia from 2006-2010, Kaine vetoed a concealed carry bill that would let gun owners have handguns in their glove box and take weapons into bars. 
Tim Kaine's stance on loopholes 
In the Senate, he supported the Manchin-Toomey bill, an effort to better regulate firearm sales online and at gun shows. 
After the 2007 mass murder at Virginia Tech, Kaine ended a loophole in Virginia's background check legislation that, according to the New York Times, failed to prevent a mentally disturbed man from killing 33 people on April 16, 2007.
Tim Kaine's stance on assault weapons 
To stifle gun violence from assault weapons, Kaine proposed limiting high-capacity magazines to 10 bullets, telling NBC's Meet the Press that, if magazines were limited, it would be harder for gun manufacturers to step around limits on the weapons themselves.
Kaine wants better restrictions on combat weapons like assault rifles, more background checks for gun buyers and expanded mental health programs — all moves, he says, would be "concrete steps to reduce gun violence."
Considering Kaine's opponent, Mike Pence, got an "A rating" from the National Rifle Association's Political Victory Fund, Tuesday's debate is shaping up to be a rocky one.
Mic has ongoing presidential coverage. Please follow our main election hub as well as coverage of Donald Trump and Hillary Clinton.