The prison Luke Cage was locked up in has a deep Marvel on-screen history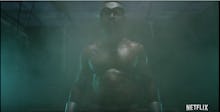 Luke Cage, much like Netflix's other Marvel superheroes Jessica Jones and Daredevil, inadvertently obtained his superpowers.
(Editor's note: Spoilers for the first four episodes of Luke Cage ahead). 
Cage obtained his during a stay at Seagate Prison in an experimental recovery process gone awry that gave him indestructible skin. But Seagate is more than just Marvel's equivalent to Alcatraz, surrounded by water off the coast of Georgia. It has a history with two other villains from the Marvel Cinematic Universe. 
Both references to Seagate Prison in the MCU tie in to the Iron Man franchise, as two villains in the films — weapons dealer Justin Hammer in Iron Man 2 and "The Mandarin" imposter Trevor Slattery in Iron Man 3 — are sent there after their arrests. Marvel's One-Shot series even follows Slattery at Seagate, in which you can see his prison getup inscribed with "Seagate" on the back. 
While Cage's stay in Seagate — at least, from what viewers were provided in the fourth episode's flashbacks — didn't provide a glimpse of other Marvel villains, it's not surprising that the prison suspiciously experimenting on its inmates might have other connections to the MCU. 
Moreover, while the character of Justin Hammer doesn't as yet have any direct ties to Luke Cage, his weapons from Hammer Industries are a catalyst for Cage's main conflict in the series. The show's primary villain, Cornell "Cottonmouth" Stokes, is selling Hammer's weapons on the black market, and it's Stokes' violent business dealings that brings a reluctant Cage into the spotlight to help the people of Harlem. 
While Cage might be a free man in Harlem, and thus out of Seagate, it's an institution with a lot of history and intrigue to the MCU. 
All episodes of Luke Cage are available to stream on Netflix right now.