Syrian rescuer sobs as he pulls a days-old baby from the rubble of an airstrike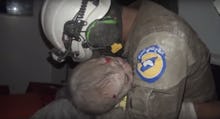 After pulling a days-old baby from the ruins of an airstrike in Idlib, a Syrian Civil Defense volunteer quietly sobs as he holds the dust-and-blood-covered infant to his chest.
In the back of an ambulance, the baby coos and fusses while the men around her rush to treat her injuries.
"When I first laid eyes on her, I felt as if she were my own daughter," the crying man, Abu-Kifah, tells a reporter shortly after the rescue, according to a CNN translation. "I took her to the hospital. I was in pain as if she were my own daughter."
Abu-Kifah is a member of the White Helmets, the group of Syrian first responders nominated for the 2016 Nobel Peace Prize. The group, which is comprised of ordinary Syrians who put their lives at risk daily to save those of their fellow countrymen, performs rescues in the country's most besieged neighborhoods, where barrel bombs rain down and violence is ubiquitous.
In the video of the baby girl's rescue, which was posted to Youtube on Thursday, Abu-Kifah can be heard uttering one phrase over and over again: "Ya Allah," which translates to "dear God." According to the CNN dub of the video, the girl's family was also recovered from the rubble.
In a statement from Medecins Sans Frontieres — also known as Doctors Without Borders — obtained by NBC News, the group claims that 278 people, including 96 children, were killed in Syria between September 21 and September 26 alone.
"Bombs are raining from Syria-led coalition plans and the whole of east Aleppo has become a giant kill box," MSF's Xisco Villalonga said in the statement. "The Syrian government must stop the indiscriminate bombing."
Indeed, according to a Saturday report from Reuters, Russia is dispatching more warplanes to the region just weeks after a September 9 U.S.-Russian brokered ceasefire agreement was reached in the hopes of quelling the bloodshed in the country.
As the violence rages on with no signs of stopping, those brave few who choose to dive headfirst into the chaos, like Abu-Kifah, will be forced to continue to bear witness to the horrors being unleashed upon Syria firsthand.