Drag star Shangela appears with Philadelphia gay bar owner to address racial slur scandal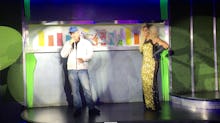 Drag star Shangela interrupted her show at Philadelphia gay bar ICandy Friday night and welcomed Darryl DePiano — the bar's owner — to the stage. There, DePiano apologized for using the word "nigger" several times during an outburst caught on video in 2013.
"Some of you may be like, 'Shangela, why are you here?'" Shangela told the audience shortly before calling DePiano up, in a speech captured on video obtained exclusively by Mic. "'Are you condoning [this] behavior? Are you supporting it?'" 
"I did not appreciate or support it," Shangela continued, "but let me tell you something, baby: Opportunities come for change and tonight we're standing on an opportunity of change."
Shangela then gave the stage to DePiano, who took responsibility for his words and offered an apology.
"For those who know me, that's not really who I am and what I stand for," DePiano said. "Unfortunately, I have to take full responsibility for my really poor actions and the really disgusting language that I used."
The incriminating 22-second video — which is now about three years old — surfaced publicly for the first time earlier this week. It depicts DePiano in a room complaining about patrons who want free drinks.
"Nig-nig-nig-nig-niggers, every one of them," DePiano can be heard saying. 
The video originally appeared in the comment section for G Philly's — the Philadelphia Inquirer's LGBTQ news site — and caused a public uproar, including a protest of the bar organized by Philadelphia's Black & Brown Worker Collective. 
"I'm not going to run away," DePiano said in his apology Friday. "I'm going to stand up and take my lickings and hope that we can all make a change, mostly myself, and help the entire community change."
Shangela said that friends and fans told her not to perform at ICandy this week. They were worried for her safety and how the public might perceive her appearance. 
"After taking some time to dig deep, I realized that I'm not a person to run from a problem or controversy," Shangela said. "I don't judge anyone that chooses to walk away from this venue. But I want a seat at the table so that I can help implement change." 
In the course of making her decision, she added, she thought about advice she's gotten from her mentors, RuPaul and actress Jenifer Lewis.
"Lewis said, 'This is a moment that you must decide who you are as a person, what you stand for. And what choice most aligns with your inner soul.'"
"I'm a bitch that wants to make it better," Shangela said to patrons at the club. 
Making it better means addressing more than just the video with the racial slur. Earlier this year, the club was accused of racist policies toward black patrons after instituting a ban on Timberland boots in the club. 
Shangela also told patrons Friday that the bar's staff would be going through sensitivity training, which ICandy acknowledged in an apology on their Facebook page.
Shangela — a black, gay Texas native — explained that "hearing that an older white man used the 'n-word' behind close doors when talking to his buddies three years ago isn't a huge shocker to me." She's known Darryl for "less than 48 hours," she said, so she can't say for certain whether his apology was sincere. 
But the true test won't be his words, she explained, but the actions he takes moving forward to educate himself and make sure ICandy is a "safe, inclusive place for all gays, especially those of color."