Here's where Mike Pence and Tim Kaine stand on abortion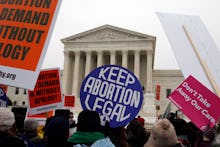 Vice presidential candidates Mike Pence and Tim Kaine face each other Tuesday night during their first and only televised debate.
The two differ on abortion, but their beliefs on the issue are actually more in line with each other than their running mates.
Pence on abortion
As a congressman, Pence sought to stop federal funding of Planned Parenthood.
"Nobody is saying that Planned Parenthood can't be the leading advocate of abortion on demand in America but why do I have to pay for it?" he said in a speech on the House floor in 2011.
"To those who say we should focus on fiscal issues, instead of the right to life, I say, 'What is more fiscally responsible than rolling back this administration's effort to expand funding for abortion at home and abroad? What is more fiscally responsible than denying any and all funding to Planned Parenthood of America?" Pence said in a speech in Iowa in 2010, according to Politico.  
As governor, he passed a law in March prohibiting a woman from getting an abortion because of abnormalities in the fetus. That law also requires that a fetus, whether aborted or a miscarriage, must be interred or cremated.
On June 30, a federal judge issued a temporary injunction blocking the law from taking effect after Planned Parenthood and the American Civil Liberties Union sued.
After Pence, 57, was announced as Trump's running mate, the Clinton campaign put out an ad attacking his record on abortion, including a clip from his 2011 speech on the House floor where Pence also said: "I long for the day that Roe v. Wade is sent to the ash heap of history."
Donald Trump has made several conflicting comments about abortion. In also come out against abortion. In an interview in March with MSNBC's Chris Matthews, he said women should be punished for having abortions, but then quickly said he meant that doctors should be punished for performing abortions.  
Kaine on abortion 
In an interview with Chuck Todd on Meet the Press on June 26, just weeks before he was picked as Hillary Clinton's running mate, Kaine said he was "personally" against abortion, but believes that the government should not tell women what to do with their bodies.
Todd: You know, when you first ran as lieutenant governor, you were classified as a pro-life Democrat. You're now not considered a pro-life Democrat. How would you describe your abortion position?
Kaine has also said he supports the Hyde Amendment, which limits federal funding of abortion. That's something that pro-choice Clinton would like to see overturned.
"He has also made it clear that he is fully committed to Hillary Clinton's policy agenda, which he understands includes repeal of Hyde," Kaine spokeswoman Karen Finney told the Atlantic in August.
Mic has ongoing presidential coverage. Please follow our main election hub as well as coverage of Donald Trump and Hillary Clinton.