Donald Trump may not have paid federal taxes for 18 years, 'New York Times' exposé finds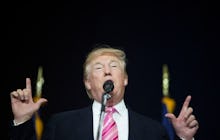 Billionaire Republican presidential nominee Donald Trump reported a deduction so big on his 1995 tax returns that he could have escaped paying anything at all for an 18-year stretch, according to a new report out Saturday night.
Records obtained by the New York Times show "Trump declared a $916 million loss on his 1995 income tax returns, a tax deduction so substantial it could have allowed him to legally avoid paying any federal income taxes for up to 18 years."
While boasting about his business acumen, Trump, breaking tradition with other presidential candidates, has refused to allow the public or press to review his tax records, arguing that he's under audit by the IRS.
That's brought him sharp criticism from Democratic rival Hillary Clinton and her supporters — and statements from tax authorities saying nothing forbids him from making the records public.
Team Clinton, which has suggested Trump has declined to go public with his records because he's either not as rich as he claims or has something to hide, greeted Saturday's report with unabashed glee:
The Times received three documents by mail: "The first page of a New York State resident income tax return, the first page of a New Jersey nonresident tax return and the first page of a Connecticut nonresident tax return."
Ironically, the Times said paperwork came in an envelope with a return address that "claimed the envelope had been sent from Trump Tower."
Trump said in his first televised debate against Clinton this week that his tax strategy had been "smart." He's also described himself as the "king of debt," in a self-complimentary way.
The Manhattan real-estate dealer has claimed a net worth of $10 billion, although Forbes and other publications have called that figure grossly overstated.
The Trump campaign sent out a lengthy, dismissive statement on the newspaper report, which also showed he skipped the voluntary check-off boxes for various charities.
The latest documents obtained by the Times don't paint a full financial picture of the nominee, who's been tight-lipped about the specifics of his personal finances.
But they do give hints as to his financial positioning 21 years ago: "While Mr. Trump reported $7.4 million in interest income in 1995, he made only $6,108 in wages, salaries and tips," the Times said, and indicate he used real-estate developer loopholes "to claim a $15.8 million loss in 1995 on his real estate holdings and partnerships."
Experts consulted by the Times "said nothing in the 1995 documents suggested any wrongdoing by Mr. Trump, even if the extraordinary size of the loss he declared" would have caught the eye of the feds, the paper reported.
Instead, the report said, "the most important revelation from the 1995 tax documents is just how much Mr. Trump may have benefited from a tax provision," known as net operating loss, "that is particularly prized by America's dynastic families."
In short, the provisions allow deductions and losses from partnerships and corporations created by the wealthy to flow "onto the personal tax returns of men like Mr. Trump."
The paper further reported that:
...if the losses are big enough, they can cancel out taxable income earned in other years. Under I.R.S. rules in 1995, net operating losses could be used to wipe out taxable income earned in the three years before and the 15 years after the loss.
The Times, which confirmed the veracity of the documents with Trump's now-retired accountant, consulted tax experts who deduced that "the $916 million net operating loss declared by Mr. Trump in 1995 almost certainly included large net operating losses carried forward from the early 1990s, when most of Mr. Trump's key holdings were hemorrhaging money."