Here are 13 things that happened since the last time Donald Trump probably paid taxes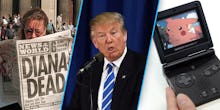 Donald Trump has famously refused to release his tax records during the 2016 presidential election, making him the first candidate in nearly 40 years to not do so. But on Saturday night, the New York Times gave him a helping hand. 
With the assistance of an undisclosed tipster, the paper published information about Trump's 1995 returns that revealed that he declared a whopping $916 million loss that year. With a tax deduction of that size, the Times reported, Trump could have legally avoided paying federal income tax for up to 18 years.
While the information available doesn't definitively prove that Trump hasn't paid taxes, it's a claim that the man himself doesn't seem to be denying. When his political rival, Hillary Clinton, accused him of dodging taxes at the first official presidential debate on Sept. 26, Trump volleyed back with, "That makes me smart."
And after the Times story broke on Saturday, Trump's only comment on the speculation came in the form of a tweet in which he claimed he understood tax law, "better than anyone who has ever run for president."
So — until Trump himself produces tax returns that suggest otherwise — here are 13 things that happened in the world during the 18 years during which he was probably not paying taxes.
1995: The last episode of "Full House" aired on May 23
1995: Tejano music star Selena was murdered by the former president of her fan club
1996: Alanis Morissette's album, Jagged Little Pill, won a Grammy award for album of the year
1997: South Park aired its first episode on Comedy Central
1997: Keeping Up With the Kardashians star Kylie Jenner was born 
1998: A small startup called Google was founded in Menlo Park, California
1998: Harry Potter and the Sorcerer's Stone was released in the United States
1999: Y2K was a thing that people feared
1999: 5-year-old Elían González was found floating in an inner tube off the coast of Miami
2011: 'The Dougie' became a popular dance move
2015: The first season of Fuller House was released on Netflix