Kim Kardashian goes makeup-free at Balenciaga, debuting new nude look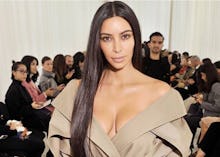 While "Kim Kardashian nude" headlines usually mean that she has fired off another naked selfie, a photo from Sunday's Balenciaga show at Paris Fashion Week announced an entirely different kind of nude for the reality TV star. Kardashian West showed up in an off-the-shoulder trench —under which she was quite possibly also nude — with a face free of makeup. All nude everything.
"Balenciaga," Kardashian West captioned an Instagram post of her new nude look. "No makeup today." In a separate and more lightly filtered post, celebrity makeup artist Mario Dedivanovic noted that she was wearing only moisturizer and that he applied it. 
While this is a new nude look for Kardashian West, she's only the latest in a string of celebrities to bare her unvarnished face to the world. Alicia Keys launched a whole #NoMakeup viral movement when she publicly parted ways with cosmetics in June, and as beauty standards evolve toward self-acceptance and body positivity, stars are increasingly sharing relatable, foundation-free selfies on social media. Gwyneth Paltrow, Laverne Cox, Chrissy Teigen, Zendaya, even Kardashian West's half-sister, makeup mogul Kylie Jenner — famous women are showing fans what they really look like, and fans mostly approve. 
Still, as evidenced by Kardashian West's naked face, haters are always going to hate. Some commenters called b.s. on the social media celeb, who has always been very vocal about her love of makeup — a love so strong that she willingly endures a two-hour "glam routine" every single goddamn day. That she might appreciate a break once in awhile is eminently understandable. 
It does appear that Kardashian West has employed a few enhancers here — eyelash extensions, a lipgloss or balm of sorts — but really, what does it matter. Whether or not she decides to contour, strobe or leave her skin unadorned is entirely up to her.