What time is the VP debate? What to know about Monday's Tim Kaine-Mike Pence showdown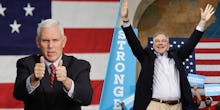 The vice presidential debate is upon us, and for those who are getting jazzed for another 90 minutes of furious mudslinging: Time to adjust those expectations. Mike Pence and Tim Kaine are unlikely to provide the entertainment value that their running mates delivered in the first presidential debate, but they do categorically disagree on issues of importance, so this should be fun. 
The debate will be streamable across a number of platforms, and will begin at 9:00 p.m. Eastern on Oct. 4 and will run for a full hour and a half, without pause for commercials. Snacks should be gathered and loins girded in advance.
Given that the last debate — the first of three between Republican Donald Trump and Democrat Hillary Clinton — can be (and was) roundly summarized by the words "garbage" and "fire," the VP debate will likely seem a bit boring by comparison. 
Both Pence, Trump's pick, and Kaine, Clinton's choice, are experienced politicians: Pence is the much maligned governor of Indiana, while Kaine is a solid-if-vanilla senator from Virginia. Because neither is a celebrity realtor unfamiliar with debate procedure, it's reasonable to expect that they'll stay mostly within the guidelines, answer the questions, address the issues and generally do what candidates are supposed to do when debating. Because neither is a woman, it's unlikely either one will interrupt the other's answers 28 times in the course of the evening. It should be a fairly standard event.
However, their goals for the debate are fundamentally at odds, so things could get pleasingly heated as they pursue their opposite agendas.
According to Politico, we can expect Pence to focus on cleaning up Trump's mess, which is to say, distracting from it. He will clarify their "policy vision" while also hammering on "Clinton's weak points and controversial episodes." (Read: the emails.) Kaine, meanwhile, will attempt to maintain momentum Clinton built at Monday's debate and to make sure no one forgets the week Trump just had. (Read: Federal income taxes; Twitter tantrum; shady Cuba dealings; Alicia Machado; softcore porn cameo and of course, that last debate.)
Still, as political scientist Samuel Goldman told the Huffington Post, VP debates tend to be "pretty forgettable affairs." Then again, watching Pence, an evangelical Christian, try to defend Trump's Playboy appearance promises to be interesting. Tune in at 9:00 p.m. sharp to watch the VP candidates spar.
Mic has ongoing presidential coverage. Please follow our main election hub as well as coverage of Donald Trump and Hillary Clinton.