Incoming Missouri Rep. Cora Faith Walker accuses another candidate of rape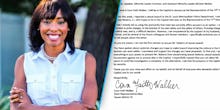 Another sexual misconduct allegation within the Missouri legislature came Friday in the form of a letter written by incoming Rep. Cora Faith Walker. In the letter, Walker not only names the man she says raped her — Steven Roberts Jr., another prospective representative — but also encourages House leadership to spread the word. 
"I felt a moral responsibility to speak out," Walker told the St. Louis Post-Dispatch. "The idea or the thought of me trying to just bury it is one I could not live with."
According to the Washington Post, Walker is constrained from speaking in greater detail about the alleged assault until her police report — filed with the St. Louis Metropolitan Police Department last week — is made public. 
However, the Ferguson lawyer confirmed what she'd told the Post-Dispatch: that she met Roberts at an apartment in St. Louis at around 9:30 p.m. on Aug. 26; that, as the only black attorneys in Missouri's state legislature, the two planned the meetup to talk about collaborating; that she had two glasses of wine; that she woke up in the apartment on the morning of Aug. 27 without a clue as to what had happened after her second drink. 
Walker told her husband, Tim, the next day, and the couple deliberated for weeks about how to handle the situation, according to the Post-Dispatch. After reporting the incident to police in late September, she sent her letter to Missouri House Speaker Todd Richardson, House Minority Floor Leader Jake Hummel and Assistant Minority Floor Leader Gail McCann Beatty on Friday. 
In the letter, Walker mentions previous sexual assault allegations made against Roberts, who was investigated but ultimately eluded charges of second-degree sodomy for an encounter he had with a female student at a St. Louis bar in April 2015. At the time, Roberts was an assistant St. Louis circuit attorney, but he was fired in Oct. 2015 — allegedly for poor performance and not because of the attention he received from police, according to a statement from the office of Circuit Attorney Jennifer Joyce. 
Both he and Walker are running uncontested for their seats in the Missouri House and are expected to be sworn in in January. In her letter, Walker asked that Roberts not be instated until the police have finished investigating her case and that — with an eye to the "systemic changes" necessary to reform the legislature's female-unfriendly environment — they "do everything in [their] power to prevent Mr. Roberts from perpetrating sexual violence, sexual assault, or sexual harassment against me or anyone else in the Capitol."
Indeed, the Missouri legislature has played host to two separate scandals in the past few years, both involving inappropriate conduct with interns. In a Kansas City Star article titled "Wolves of Jeff City," women who've worked in Missouri's Capitol confirmed that its culture conducive to sexual harassment. According to the Associated Press, House Speaker Richardson called Walker's account "extremely serious and disturbing."
Roberts' lawyer, Scott Rosenblum, told the Associated Press that the police are indeed investigating, but that he believes he "will be able to basically undermine those allegations pretty quickly." He said that the encounter was "absolutely consensual," citing "objective evidence" he had reviewed.
In a statement emailed by Rosenblum Monday afternoon, Roberts called the allegations "completely and unequivocally false". Here is an excerpt:
"I have strong and indisputable evidence that documents the consensual nature of our encounter in August.
Walker's story is quite different. Her decision to press charges, she wrote, was motivated by concern for her own safety and the safety of others.
"This is definitely just really difficult, coming forward knowing what was going to happen," she told the Washington Post, noting that some people had been supportive while others had not. "People that don't know me have fallen into the same typical sorts of tropes that I knew I risked when I came forward... the sort of things that make it difficult and scary for someone to come forward, the sorts of things that cause women to stay silent."
Oct. 3, 2016, 4:39 p.m.: This story has been updated.