Historic Ashburn Colored School defaced with swastikas, white power signs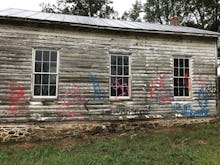 A historic Virginia school for black children in the middle of renovations was defaced with graffiti including swastikas and "White Power" slogans this weekend, causing significant damage, CNN reported.
The Ashburn Colored School opened in 1892 to provide free public education for black people in Ashburn, Loudoun County, and continued to operate for more than 65 years before closing in July 1959, according to the Loudon School for the Gifted, which launched a project to restore the site as a museum in 2014. On Saturday night, an unknown individual or individuals spray-painted the site with a variety of graffiti including obscene images, Nazi swastikas and a scrawled "White Power" message.
"While we are heartbroken about this senseless act, please know that our students, volunteers, and community will work even harder to complete the dream of renovating the Ashburn Colored School," the project wrote on its Facebook page.
"I am sickened and saddened by this," one commenter wrote below. "Please know that most of us around here don't think like this."
"How horrible!" another wrote. "This makes me so mad. I've been following your efforts to restore this piece of history — keep up the good work and please don't get discouraged."
A post on the project's Facebook page from just weeks ago noted the progress that had been made on restoring the building.
"The vandalism to the Ashburn Old School is reprehensible and will not be tolerated here," Loudoun County Sheriff Mike Chapman told CNN. According to CNN, authorities are offering a $1,000 reward for information on the culprits.
However, since the vandalism, donations have poured in to the project's Kickstarter page, with the rehabilitation effort having reached more than $38,000 as of late Sunday afternoon.
According to anti-extremism nonprofit the Southern Poverty Law Center, hate groups reversed a years-long decline in 2015, with Klan chapters exploding from 72 to 190 across the country amid a wave of protests over the removal of the Confederate flag from the South Carolina statehouse that year.