Someone tagged the Trump International Hotel with "Black Lives Matter"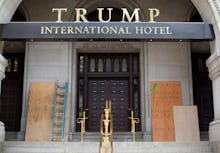 An unknown man spray-painted the walls of the Trump International Hotel in Downtown Washington, D.C., on Saturday afternoon in broad daylight as seemingly unconcerned pedestrians walked right by.
In a video posted to Twitter, a man could be seen spraying the words "No Justice, No Peace" and "Black Lives Matter" onto the side of the hotel before strolling past onlookers and cars on 12th Street Northwest. 
Photos of the man's handiwork, as well as photos of Trump International Hotel employees covering it up with plywood boards, quickly spread on social media.
Despite the very prominent Trump named displayed on the building, the landmark is not owned by the real estate billionaire, but is instead merely leased by him, BuzzFeed reported in April. The taxpayer-owned building in which the hotel is located, as well as its iconic clocktower, is the "palatial, neo-Romanesque Old Post Office," which was originally built in 1899. Trump won a contract to renovate the building, BuzzFeed wrote, later reneging on promises to employ a specific architect who had long advocated for the building's restoration and the "involvement of a multibillion-dollar real estate investment firm with a rock-solid financial reputation."
Trump also, to the consternation of the General Services Administration, planned to cover parts of the building's historic marble floors and wooden walls with drapery, as well as petitioned to cover parts of its lobby in gold leaf.