Solange brings the stunning black beauty of 'A Seat at the Table' to life in 2 new visuals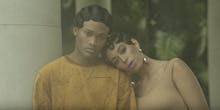 Solange Knowles' A Seat at the Table is her most matured, immersive and issue conscious project to date, and the world she's built around it grew a little bigger. Solange dropped two videos Sunday from the album, one for "Don't Touch My Hair" featuring Sampha and another for "Cranes in the Sky." 
Snapshots from these visuals appeared in Solange's 112-page digital lyric and photo booklet, released Wednesday before her album drop. It offered the first glimpse of the album's invitation to sit down with Solange and her family as they celebrate their roots and discuss race relations in the United States. Both music videos, released Sunday, show Solange in spaces that feel similarly vulnerable, lying on the floor alone and with groups, dancing in wide fields and close, concrete rooms. She notably keeps eye contact with the camera nearly the entire time, creating a confrontational sort of intimacy that fits the album's songwriting.
Solange described her "very complex" relationship with hair in a conversation piece between her, her mother Tina Lawson and writer Judnick Mayard, published on Saint Heron the day of the album drop. Solange shares that her mother converted a portion of her and Beyoncé's childhood home into a hair salon.
"I think I've been on so many fashion shoots and anything in regards to fashion, which is still a predominantly white industry, and also feeling the void of tokenism through my hair being an Afro and what that meant to the fashion world," Solange said in explaining "Don't Touch My Hair." "So, the song is as much as what it feels like to have your whole identity challenged on a daily basis, although physically touching the hair is extremely problematic!"
The "Don't Touch My Hair" music video also features Sampha, the British electronic musician who lends his vocals to the standout track, rocking some fly-away dreads.
Check out "Don't Touch My Hair" and "Cranes in the Sky" below.