Donald Trump was terrible to women behind the scenes of 'The Apprentice,' new report says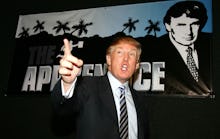 Over the course of Republican nominee Donald Trump's long campaign, more and more unsettling reports have surfaced regarding his treatment of women — there's the news that he harassed former Miss Universe Alicia Machado about her weight, there was the revelation he once called a breastfeeding lawyer "disgusting" and there's his history of hurling insults at women on Twitter. But a new report shows just how terribly Trump allegedly treated the women with whom he was working on his business-themed reality show The Apprentice.
In a report published Monday by the Associated Press, more than 20 people who had been involved in the show as either cast members, crew members or editors spoke to the AP about Trump's behavior toward women on set — and many recalled the same disturbing incidents.
Though they were all interviewed separately, eight of the people who spoke to the AP recalled that Trump "repeatedly made lewd comments about a camerawoman he said had a nice rear" and compared her to his daughter, Ivanka Trump. 
"He would just mention it all the time," Rebecca Arndt, a camera assistant who worked on The Apprentice said of Trump's attitude toward her co-worker. "I remember him comparing Ivanka to her and saying that only Ivanka was prettier."
The Apprentice premiered in 2004 and aired for 14 seasons. Its immediate success is believed by many to have "rescued" Trump's image and allowed him to remake himself as not just a businessman, but also a showman who could pull in TV ratings.
A crew member who spoke to the AP but did not want to be identified in the report recalled an instance in which Trump asked men on the set of The Apprentice if they would have sex with a female contestant — while she was in the room. 
"We were in the boardroom one time figuring out who to blame for the task, and he just stopped in the middle and pointed to someone and said, 'You'd f... her, wouldn't you? I'd f... her. C'mon, wouldn't you,'" the crew member said. "Everyone is trying to make him stop talking, and the woman is shrinking in her seat."
Katherine Walker, a former producer who worked on the show for five seasons, told the AP that Trump often spoke to her about women's bodies and spoke to her about which of the women contestants he thought would be a "tiger in bed."
But not all of the former cast and crew who spoke with the AP found Trump's behavior demeaning or offensive. Former Apprentice contestant Poppy Carlig, whom Trump once asked to "twirl," reportedly so that he could see her body, told the AP that he said "I reminded him of his daughter and I thought that was really touching because I know how much he values his family."
The Trump campaign issued a blanket denial of the accusations in the AP's latest report. Hope Hicks, Trump's campaign spokeswoman, declined to be interviewed for the story and released a statement saying, "These outlandish, unsubstantiated, and totally false claims fabricated by publicity hungry, opportunistic, disgruntled former employees, have no merit whatsoever .... The Apprentice was one of the most successful prime-time television shows of all time and employed hundreds of people over many years, many of whom support Mr. Trump's candidacy."
According to the AP, "most" of the former Apprentice employees and contestants "offered no opinion on the November election in the course of their interviews," however "the majority of those who did said only that they were not supporting Trump."