Who is the vice presidential debate moderator? What to know about CBS' Elaine Quijano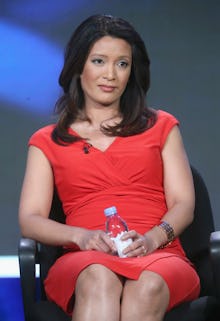 When Elaine Quijano takes the stage on Tuesday to moderate the sparring between vice presidential candidates Tim Kaine and Mike Pence, she will already have made history. As a Filipino raised in Illinois, Quijano is the first Asian-American to moderate a presidential or vice presidential debate.
Here are several things to know about CBS anchor Quijano:
She is 42 years old. She is the youngest journalist to moderate a national debate since Jody Woodruff was a moderator in 1988 at the age of 41. 
Quijano is an anchor at the CBS News 24/7 digital network. She will be the first debate moderator who comes from a primarily digital news service.
Engineering initially seemed to be her future. Quijano attended the University of Illinois at Urbana-Champaign to study math and science. But she quickly fell in love with reporting after she enrolled in a broadcast journalism class. In 2008, Quijano told Asian Journal that when her professor staged a crime to test the "wits" of her students, it impacted her view of journalism.
One time [Robin Neal Kaler] staged a mock crime. In the middle of a lecture, someone ran in and grabbed her purse, and Robin ran out after him. We were just stunned. And I was so naive – I had no idea it was a ruse. But Robin came back in and said, "You were all just eyewitnesses to a crime." It was a test of our powers of observation.
Quijano has covered a myriad of major national stories. These include the White House, Sept. 11 and the Newtown, Connecticut, shooting. According to CBS, her reporting led President Barack Obama to change a policy in 2011 that did not send condolence letters to the families of military personnel who committed suicide. She has anchored political coverage for CBS throughout the 2016 election. 
She lives in New York City. She also anchors CBS Weekend News.
The debate topics Quijano picks will reportedly not be released before the debate. This will keep Kaine and Pence on their toes.
The debate happens during Filipino-American History Month. The October debate comes during the legally recognized month for Filipino-Americans to celebrate their heritage. Fitting, given Quijano's heritage and her role as the first Asian-American national debate moderator.
Mic has ongoing presidential coverage. Please follow our main election hub as well as coverage of Donald Trump and Hillary Clinton.