Wesleyan dean fired after Boston Globe uncovers years-old sexual misconduct allegations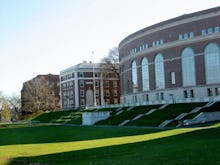 Just after classes let out for the summer, Wesleyan University quietly fired Associate Dean Scott Backer, listing him among the departures in the college's monthly "Staff on the Move" newsletter. At the time, Dean of Students Rick Culliton informed the campus community only that Backer had "left" his post. 
But according to Wesleying, the story behind Backer's firing wasn't so benign: The dean had been terminated not 24 hours after a Boston Globe reporter contacted the university asking for comment on sexual misconduct allegations against Backer during his previous tenure at Vermont Academy, a private college prep school. 
The Globe's story — an investigation into how educators accused of sexual misconduct manage to find new jobs — reported Backer had allegedly propositioned a 16-year-old female student in a series of "lewd text messages" in 2007. 
Still, when Backer applied for the associate dean position at Wesleyan just months later, his colleagues at Vermont Academy provided him with three glowing recommendations that helped earn him the job — a job that, in part, meant dealing with Wesleyan's own sexual misconduct hearings.
"As part of the hiring process, Wesleyan received positive reviews of Mr. Backer in written references from and phone interviews with senior administrators at Vermont Academy," explained Dean Mike Whaley in a campus-wide email on Sunday, published by campus blog Wesleying. 
"Likewise, no information was revealed in the background check," Whaley added, noting the call from the Globe reporter had been the first time they'd heard of allegations against Backer. "Had we been aware of this information, Mr. Backer never would have been hired."
Whaley wrote that the university hired a law firm to reopen sexual misconduct cases Backer oversaw at Wesleyan, and after a thorough audit, found no "concerning issues or impropriety."
But Wesleyan alumna Chloe Murtagh, who graduated in 2015, threw some skepticism at that verdict in a phone call on Monday.
"How could someone with literally no concept of sexual integrity have made appropriate moral judgments on rulings?" she asked. 
While at Wesleyan, Murtagh was a member of the Survivors' Network — what she called a "loose" organization of sexual assault survivors and activists who would help each other navigate the college's reporting and judiciary processes. Murtagh explained that students would typically report the details of their assaults to Culliton, leaving Backer to preside over the hearings alongside a panel of other campus officials.
Now that the allegations against Backer have been unveiled, Murtagh said many of the problems with Wesleyan's handling of sexual assault cases become explicable.
"Our biggest complaints were really lenient sentences and, overall, people had this sense that their case wasn't taken seriously," Murtagh said. "That all makes sense when the person presiding over the decision is a sexual predator himself."
"How could someone with literally no concept of sexual integrity have made appropriate moral judgments on rulings?"
Case in point: According to Murtagh, a student had once gone to Backer with concerns over allegations against him regarding sexual harassment via text — a stunning parallel to the allegations against Backer himself. 
The documents obtained by Mic from a subsequent lawsuit — wherein the student's lawyers accuse Wesleyan of making an "example" of him by prohibiting him from participating in student government and walking at graduation — show Backer advising the student not to worry about the allegations. 
"Later that day, John Doe met with Dean Scott Backer who assured him that because Jane Doe's allegations appeared to involve a 'stupid drunken message a long time ago,' which was an isolated occurrence as opposed to repeated behavior, it would not be 'a serious Title IX concern,'" the document reads.
What's more, students commenting on Wesleying articles about Backer's firing claim Backer's sexual misconduct allegations were common knowledge going as far back as 2009. 
"During a Judicial hearing run by Scott Backer in the fall of '09 we heard from a mutual friend who attended the Vermont School about Backer's past," an anonymous commenter wrote. "We brought this to the schools attention, I know multiple deans and other admins were made of aware of it. They either didn't believe us or ignored the information given to them about this case."
Another commenter wrote, "Class of '13 alum here. We knew about this while I was there. The school must have known for much, much longer. I wonder how long they covered this up?"
Mic reached out to Whaley for comment on these claims, and we will update the story when we hear back.
It would be easy to make Backer the fall guy for any of the university's issues with adjudicating campus assault. But understanding how it is that an educator could find a job at a prestigious university after sexual misconduct allegations — and then rule on sexual misconduct cases himself — demands we look at the big picture, Murtagh said. 
"Administrators say they didn't know about the allegations against Backer," Murtagh said. "But they also clearly didn't care that students were coming to them again and again saying that the board wasn't taking their cases seriously."
She continued, "For a lot of us, it's a reminder that we're not talking about just a few 'bad apples' when it comes to sexual violence. It's systematic. All the administrators involved in the judiciary process played a part in allowing Backer to completely mishandle these cases because they too were mishandling them."