Beard jewelry now exists, because everyone has a right to sparkle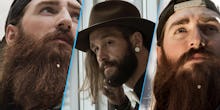 Have you ever seen a beard and pondered, "This needs more oomph. It needs more pizazz. It needs some ... dare I say ... sparkle?" 
Well, if you have, then your day has come. 
In a new Kickstarter campaign, the company Krato Milano is trying to sell what they're calling "Krato beard accessories," which are effectively tiny little sparkly adornments someone could fashion onto their beard.
Think earrings, but with the ability to twist into your hair and stay put. 
"I was truly fascinated by stylish Italian men and noticed that almost everyone of them has a beard," Krato Milano's founder and designer Valeria Stroukova said in an interview. "Class, style and a well-carried beard is what truly inspired me." 
Each of the tiny jewels, which can look like little diamonds, skulls or anchors, measure close to a centimeter in diameter and call for at least three inches of beard hair. 
According to the Kickstarter page and the YouTube video for the "beard accessories," people are already big fans. The video itself has more than 37,000 views and the Kickstarter, though it runs through Nov. 3, is just a few hundred dollars shy from its goal. 
"Since I was inspired by classy and stylish men, I see them as ideal customers," Stroukova said. "But also men who love to stand out of the crowd, and dare to be different — these are the true trendsetters." 
The campaign itself comes at a time when beards in general are getting more attention. Before these beard jewels, there was of course glitter beards, which had men dousing their tufts in glitter and taking cheeky Instagram photos. And then there's the Instagram account the Gay Beards, which is run by two men intent on adorning their equally plentiful beards with anything they can get their hands on, from slices of wood to gummy worms to flowers. 
And turns out, that entire movement is what inspired Stroukova in the first place. "[It] got me thinking that it might be interesting to create a beard accessory that would further portray beardsmen's uniqueness and style, since beard is a great canvas for self-expression," Stroukova said.
"In my research I couldn't find any modern or sophisticated beard accessories," she continued. "Yes, there are viking looking beads and spirals, sparkles, even Christmass toys, but there is no beard accessories for modern and stylish men. Italian men wearing suits and ties for example, would never wear sparkles or viking beads in their beards, instead they would choose a sophisticated little crystal." 
So consider these beard jewels to be a more subdued alternative to those ornaments and all that glitter. 
Though, there is one downside. 
When you wear these, you run the risk of always, always looking like you have some sort of food particle in your beard — at least to people who are more than three feet away from you. 
But if you're OK with always looking like you've just eaten an ear of corn, then we're certainly not here to stop you.