VP debate 2016 start time, channel, moderator and everything you need to know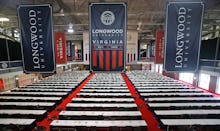 The one-and-only 2016 vice presidential debate will feature candidates Tim Kaine and Mike Pence. Both have experience as governors and Washington legislators. And both have more traditional political experience than Donald Trump or Hillary Clinton. 
But Kaine and Pence will present different visions for America at their debate. With Elaine Quijano of CBS as the moderator, the face-off between a Democratic senator from Virginia and the Republican governor of Indiana may draw high viewership. 
Here is what to know about how to watch the 2016 vice presidential debate:
VP debate start time
The VP debate begins at 9 p.m. Eastern on Tuesday, Oct. 4. It will run for 90 minutes.
How to watch the VP debate
The debate will be broadcast live on all the major television networks.
You can also watch live streams online at ABC News, Buzzfeed, CBS News, CNN, C-SPAN, the Daily Caller, Facebook, Fox News, Hulu, the Huffington Post, NBC, PBS, Politico, Telemundo, the Wall Street Journal, Twitter, Univision, Yahoo and on YouTube.
VP debate moderator
Elaine Quijano of CBS news will moderate the vice presidential debate. She is the first Asian-American to moderate a national debate. Quijano has covered Sept. 11, the Iraq War and the White House throughout her career. She has anchored coverage of the 2016 election for CBSN, the CBS 24/7 digital news service.
Mic has ongoing presidential coverage. Please follow our main election hub as well as coverage of Donald Trump and Hillary Clinton.