Pixel, Google's new phone, just got leaked — and this company is to blame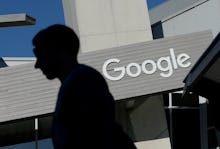 Google's new smartphone line, Pixel, has been leaked by not one but two separate online retailers. The accidental reveal came days before Google was presumably set to unveil the Pixel at a showcase on Tuesday, Oct. 4.
Canadian phone company Bell posted a pre-order page to its website Sunday night. The page was inevitably taken down, but Bell's effort was in vain: A web archive captured the original posting. 
British mobile retailer Carphone Warehouse inexplicably followed suit by leaking more promotional images on its site's page. The link has since been deleted, but the Guardian and Gizmodo have corroborated this story as well. 
The leaked images, which can be seen on Android Police, detail two sizes of the Pixel — standard and "XL" — as well as the devices' specs: a Snapdragon 821 processor, 4 gigabytes of RAM, Gorilla Glass AMOLED screens, fingerprint sensors, an 8-megapixel selfie camera, 12-megapixel back camera and unlimited photo storage on the Google Photos app. A regular Pixel comes with 32 gigabytes of internal storage; the Pixel XL is equipped with 128 gigabytes. 
Google had teased the Pixel on a cryptic website ahead of the Tuesday event. The surprise has now been ruined. (Anyone remember Amazon's iPhone 7 fiasco?) 
Was it intentional on Google's behalf to generate a little buzz? We'll probably never know.