Renting hasn't been this hard in years. Can you afford to buy a home?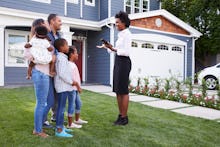 It's not just you. Finding a cheap apartment hasn't been this hard in more than a decade.
That's because the number of available apartments is hovering close to its all-time low: In the last year, rental occupancy rose from 96.2% to 96.5%, according to the real estate technology firm RealPage, Business Wire reported. That occupancy rate is just a few tenths of a percentage point below its all-time high of 96.8%, set during the peak of the dot-com boom in 2000.
In other words, pretty much every available apartment has been snatched up.
To make matters worse, it's actually apartments aimed at middle-incomes that are being squeezed the most, RealPage chief economist Greg Willett explained in a press release. 
Now, if you look at how hard it can be to buy a home, it's no surprise that many millennials are skipping — or at least delaying — the homeownership step of adulthood.
"Renting is not a horrible thing by any stretch of the imagination," certified financial planner based in Carbondale, Illinois, Jeff Rose said. "It can actually be a very good thing, you might be able to save more or invest more."
After all, he said, buying a home has costs, like relocation, repair, and maintenance, which would likely eat into any savings from not renting. 
But, while homeownership may not be such a great investment in some ways, it offers stability — and can feel better than putting money toward rent that you'll never get back.
Young people, in fact, are chomping at the bit to buy: 93% of renters between the ages of 25 and 34 say they want to own their own home someday, according to the latest Fannie Mae National Housing Survey.
Before you take the leap, look. Here are three boxes you need to check before you decide to leave that renter's life behind.
Consider buying a home if you're going to live there for at least a decade.
The main reason to buy a home is that you get equity. You're putting your money into an asset that will — hopefully — increase in value over time. 
"In the long run you have the equity buildup, that's certainly the number one reason to buy," Seymour Williams, a New York City-based certified financial planner, said. "But the maintenance charges can be almost as high as the rent."
Therefore, think hard about timing. It takes about 10 years, Williams said, for your home to gain enough value to offset the costs of buying.
Another reason why your timeline is important, particularly for younger people, is that homeownership can really tie you down: If you get a new job in a different city, for instance, needing to sell a home on short notice may require selling it for a little less than it's worth — and you'll also need to pay a realtor. 
To buy a home, you should have enough for a 20% down payment.
Down payments are not always 20% of the total cost of the home, but it's generally smart to have at least that much on hand.
That can be a big sum. A $100,000 down payment on a $500,000, for example, will be out of reach for many homebuyers.
In addition to the down payment, homeowners also have to pay their own maintenance and upkeep costs. 
There are a number of programs in place meant to help lower- and middle-income people buy homes. 
Veterans and sometimes their spouses, for instance, often qualify for financing through the Department of Veterans Affairs. 
And the Good Neighbor Next Door program subsidizes as much as half of the home's listing price for people in certain professions — including law enforcement officers and teachers — who agree to live in certain neighborhoods for at least three years. 
Your debt would have to be solidly less than 43% of your income every month.
Before you can commit to taking out a mortgage, you must consider the amount of debt you're already carrying — since it could get in the way of your ability to make monthly mortgage payments. 
The Federal Housing Authority has a cap of 31% on the ratio between your mortgage expenses (including insurance, deposits, taxes, and homeowners dues) and your gross income in order to qualify for a loan.
But you've likely got other debts too.
If the mortgage payments plus monthly costs for your other loans — anything from student debt to car loans — add up to more than 43% of your income, then FHA won't insure your loans.
The reality? To be safe, your ratio should probably be a lot lower than that. 
Homeowners may have to factor in the cost of kids, too.
Having a kid can cost about $15,000 a year.
So even if you don't have one yet, if there's any chance you'll become a parent during the life of your mortgage, you'll need to factor those extra costs into that overall debt-to-income equation above. Beware if all your costs add up to more than 43% of your income.
In other words, deciding to buy a home means asking yourself a couple of "hard questions," Jenifer Lee, a New York City-based certified financial planner and accountant, said. 
"If you're single and you say you want to buy a place, I'd ask whether you're in a relationship," she said. "If you're married, I'd ask if you're planning on having a family."
One factor prospective homeowners don't always take into account is the high cost of childcare. Someone is going to have to take care of the kid, Lee said, which means you may want to stay close to family.
Another factor to consider is jobs, she said.
"You also look at the personality and the kind of job, if they have the ability to work freelance," Lee said. "If you don't have that kind of flexibility, do you really want to move to the suburb?"
To sum up, if you lack the income — or have too much debt — you're not completely out of luck: You might be able to buy a home someday. But for now, you may need to keep making nice with your landlord.
Barring that? Move to the Midwest, where home prices are low relative to income.