When is 'Luke Cage' season 2 coming? Fans will see Cage again sooner than they think.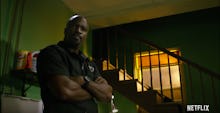 After Netflix's two-hour outage Saturday night, which upset those trying to binge-watch Luke Cage, it's safe to assume fans are enthusiastic about Marvel's first series with a black superhero lead. But while Netflix gives viewers the ability to watch an entire show in a few sittings, the consequence of that is waiting even longer for the next season. 
So, for those who have already watched all of Luke Cage: When can we expect a second season? Unfortunately, unlike some of Netflix's other original series, it could be more than a year. 
Per the streaming service's chief content officer Ted Sarandos, Netflix plans to roll out two Marvel series per year, with 2017 bringing the first seasons of Iron Fist and The Defenders. The plan from there is to introduce a second season of Jessica Jones and a third season of Daredevil, which would ostensibly fill the two slots in 2018. 
Considering Netflix is interested in a spin-off series for the Punisher as well, Luke Cage season two may not come out until 2019 at the earliest. However, fans won't have to wait that long to see Cage again. He'll show up next year in The Defenders — which, essentially, is Netflix's version of an Avengers-esque team-up. The series will feature Cage, Jessica Jones, Daredevil and Iron Fist.  
While it might not have the same vibe as Luke Cage — especially the series' Harlem-centric backdrop — it'll mean more Cage on-screen, this time, reunited with his former love interest in Jones. Plus, considering how strong each Marvel series has been, it should be worth the wait.