Coke and Pepsi sponsored nearly 100 health organizations, so good luck America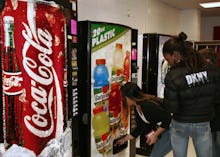 Today in shady soda news: Roughly 100 national health organizations, including the American Diabetes Association, Juvenile Diabetes Research Foundation, the American Heart Association and the National Institute of Health, accepted sponsorships from Coke and Pepsi from 2011 through 2015, a study published on Monday from two Boston University researchers revealed.
Yes: Diabetes groups accepted sponsorships from corporations whose staple products are sugary, nutrient-void colas — colas that science has demonstrated can contribute to the disease the organizations are attempting to combat. Even for those at a healthy weight, soda consumption can significantly increase risk of Type 2 diabetes, NPR reported. Who'd a thought, right? 
The American Diabetes Association received payments totaling $125,000 from the Coca-Cola Foundation in 2012, according to the Coca-Cola Foundation website. 
Meanwhile, the Juvenile Diabetes Research Foundation accepted several Coke sponsorships for events, the study noted. 
Neither organization responded to Mic's request for comment.
Corporate sponsorship is not philanthropy. 
Why should Americans care that Coke and Pepsi are giving money to health organizations? These types of corporate sponsorships work as a strategy to create a positive public image, study co-author Michael Siegel, professor in the department of community health sciences at Boston University, who holds a masters degree in public health, said in an email. Siegel explained that the sponsorships can help the company's bottom line and also deter criticism from organizations that might otherwise promote policies to reduce use of soda.  
"These organizations are shooting themselves in the foot because on the one hand, their mission is to fight obesity and on the other hand, they are actually playing a role in promoting soda consumption by unwittingly helping soda companies market their products," Siegel said, asserting that accepting donations and helping to market unhealthy beverages is essentially acting to promote soda consumption.  
"On the one hand, their mission is to fight obesity and on the other hand, they are actually playing a role in promoting soda consumption by unwittingly helping soda companies market their products" —Dr. Michael Siegel
The American Heart Association, one of the organizations mentioned in the study, defended its actions. "To achieve our goals, we must engage a wide variety of food and beverage companies to be part of the solution," the organization told the Washington Post. "As clearly evidenced by our work, under no circumstances does such occasional funding have any influence on our science and the public policy positions we advocate for."
If health organizations accept sponsorships from the food industry, it should be "from companies that not only make and sell healthful foods, but also do not spend millions of dollars relentlessly lobbying against public health," Andy Bellatti, strategic director of Dietitians for Professional Integrity, a group that advocates for ethical sponsorship in the dietetics industry, said in an email. 
The American Beverage Association, the lobbying group for Coke and Pepsi, responded to Mic's request for comment with the following statement: 
"America's beverage companies are engaged in public health issues because we, too, want a strong, healthy America. We have a long tradition of supporting community organizations across the country. As this report points out, some of these organizations focus on strengthening public health, which we are proud to support."
But here's the irony in it all: The ABA supports these health organizations, yet it fights against public policy measurements like soda taxes that aim to promote public health. In the study, Siegel and co-author Daniel Aaron, a medical student at the BU School of Medicine, revealed that Pepsi and Coke lobbied against 29 bills that attempted to reduce soda consumption or improve nutrition. 
Not so virtuous-seeming anymore, right? Here's what the ABA had to say about their lobbying efforts: 
"Yes, we may disagree with some in the public health community on discriminatory and regressive taxes and policies on our products. But, we believe our actions in communities and the marketplace are contributing to addressing the complex challenge of obesity. We stand strongly for our need, and right, to partner with organizations that strengthen our communities."
Soda companies want to have it all: They want to look generous by supporting health organizations and also have soda sales uninterrupted by legislators — and the former helps them with the latter. 
Recently, Big Soda paid dietitians who later tweeted their opposition to the soda tax, Mic previously reported. In 2012, the Academy of Nutrition and Dietetics, another organization enjoying sponsorship by Big Soda, did not support the New York legislation to ban large sizes of sodas. (Note: Coke no longer sponsors the Academy of Nutrition and Dietetics, the study stated.)