Here's where Mike Pence and Tim Kaine stand on immigration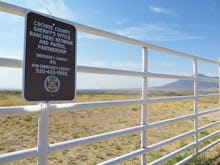 Vice presidential candidates Tim Kaine and Mike Pence, who spar in their one and only debate Tuesday night, have staked out starkly different positions on immigration — an issue that's roiled the 2016 race. 
Here's where the two candidates stand on the issue.
Mike Pence on immigration
Late last year when Donald Trump, who was battling it out for the Republican nomination for president, said he would ban foreign Muslims from entering the United States, politicians from both parties slammed the idea — including Mike Pence, Trump's future running mate.
Trump began to soften his stance, saying instead his administration would conduct "extreme vetting" of people from countries that have links to terrorism. He also said he would kick out all illegal immigrants and make them reapply to return to the United States.
In an interview on NBC's Meet the Press last month, Pence defended Trump's evolving immigration policy, even if he couldn't say exactly what it would be.
"We're going to enforce the laws of this country. We're going to make sure that we essentially end illegal immigration once and for all," he said. "And when all of that happens, then, as a nation, he said we can give consideration to how we resolve issues around those that remain. We'll do it humanely."
Tim Kaine on immigration
In July, Kaine drew attention when he spoke in fluent Spanish on the Senate floor about immigration, a language he learned when he lived abroad in Honduras in his early 20s.
"Donald Trump said once during the campaign, Mexicans are rapists and criminals. I lived in Honduras in a very poor community. But I basically came to see, after I developed a language fluency that enabled me to understand, I came to see the same values in the people that I lived with that my parents were telling me to follow, the values of family and faith and hard work," Hillary Clinton's running mate said in an interview with NPR.
"And so when you see those basic values, good values, animating people, you never will tolerate somebody just using a broad brush to trash somebody because of their national origin."
On his Senate website, Kaine says he wants "a better visa system," enhanced border security and a path to citizenship for undocumented immigrants already in the country, policies that are in line with Hillary Clinton.
Clinton and Kaine have vowed to enact immigration reform in the first 100 days of their administration.
Mic has ongoing presidential coverage. Please follow our main election hub as well as coverage of Donald Trump and Hillary Clinton.