Samsung Galaxy S8 rumors: Next flagship phone might not have a headphone jack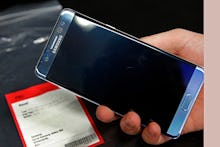 Thinking of making the switch to Android following Apple's decision to drop the 3.5mm headphone jack? Not so fast: Samsung might follow in the iPhone 7's footsteps and nix the port for the upcoming Galaxy S8.
A number of tech blogs are suggesting the smartphone maker is ready to part ways with the century-old technology based on a press release published by the USB Implementers Forum. The document details the Audio Device 3.0 specification for the USB Type-C port, which made its smartphone debut on the Galaxy Note 7. The announced specification "makes it easier to support digital audio over USB" while decreasing battery consumption.
"Device manufacturers can eliminate the need for multiple ports and efficiently deliver data, power and video over a single connector with USB Type-C," the statement reads. "USB Audio over USB Type-C allows [original equipment manufacturers] to remove the 3.5mm analog audio jack, shaving up to a millimeter off product designs and reducing the number of connectors on a device."
SamMobile notes that the removal of a headphone jack could make the Galaxy S8 (and other smartphones) slimmer while increasing water resistance. 
Samsung has yet to address the press release or any other details regarding the Galaxy S8 (which is still a presumed title). But with the technology now available, it's plausible Samsung would make this change, now that Apple has made the single connector mainstream.