Trump Foundation issued cease and desist by New York attorney general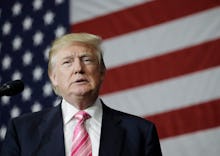 New York's attorney general has ordered the Donald J. Trump Foundation to halt its fundraising efforts in New York.
According to the New York Times, Eric T. Schneiderman's office sent the cease and desist notice on Friday, but it was not made public until Monday. The Trump Foundation was not registered with the Charities Bureau, according to the letter, and as such cannot legally solicit charitable contributions. 
According to the letter, "the failure to immediately discontinue and to file information and reports" with the Charities Bureau before 15 days were up would "be deemed to be a continuing fraud upon the people of the state of New York."
The cease and desist comes close on the heels of a report by the Washington Post that the Trump Foundation never secured the requisite certification to raise funds from the public. And it's because of the Post, really, that many of the holes in Trump's charitable record have come to light. 
In June, the paper published a report spotlighting what it alleged were the candidate's overblown estimations of his own charitable giving. Trump's donations over the past three decades totaled a fraction of the promised sum, the Post found, and ran primarily through the Trump Foundation. 
In September, the Post reported that the Republican nominee was effectively laundering donations through his foundation, giving to good causes using other people's money, repackaged as his own. 
Just under two weeks later, the paper alleged that Trump had used hundreds of thousands of his foundation's dollars to settle his business's legal disputes. 
But even before the Post ran its report on the Foundation's shady dealings, Schneiderman's office was investigating the Trump Foundation for misuse of funds, having learned that it may have put donated money toward the purchase of expensive personal items, including a hulking portrait of the Republican nominee and a signed baseball helmet. 
In an emailed statement, Trump campaign spokesperson Hope Hicks addressed the cease and desist order.
"While we remain very concerned about the political motives behind A.G. Schneiderman's investigation, the Trump Foundation nevertheless intends to cooperate fully with the investigation," Hicks said. "Because this is an ongoing legal matter, the Trump Foundation will not comment further at this time."
Oct. 3, 2016, 4:16 p.m.: This story has been updated.