The NRA just made Kim Kardashian's horrific Paris gunpoint nightmare all about the NRA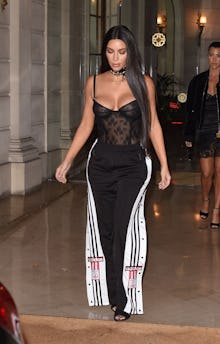 Only hours after Kim Kardashian West was robbed at gunpoint in the private Paris residence where was staying early Monday morning, the National Rifle Association sent out a string of snarky tweets about gun control — turning one woman's terrifying experience into an opportunity to mock gun safety advocates.
Kardashian West was reportedly held up by two men dressed as police officers. While she was physically unharmed during the incident, her spokesperson told CNN she was "badly shaken." Reportedly, robbers made off with about $10 million worth of valuables, including a $4.5 million ring.
The NRA's official Twitter account launched into a tweetstorm that used the attack on Kardashian West as an argument for the seeming ineffectiveness of gun safety measures. "Wait, criminals held @KimKardashian at gunpoint in Paris?" the organization tweeted. "How is that possible? Does anyone know if they passed a background check first?"
Despite the fact that multiple studies have found a correlation between gun legislation and a reduction in gun deaths, the NRA's tweets struck many as in poor taste.
The NRA was quick to jump on the incident as a chance to try to poke holes in arguments for gun safety, but it's been notably silent on the police shooting deaths of gun-owners like Philando Castile, a black man who was killed by the police while legally in possession of a concealed weapon, which reports say he never reached for.