Gorillaz "Phase Four" 2017: What we know about the animated group's mysterious release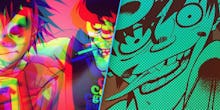 After nearly six years of silence, the world's premiere animated, simian hip-hop group the Gorillaz have returned to do battle with ancient spirits and legendary action stars once more. The project, helmed by musician Damon Albarn and illustrator Jamie Hewlett, posted a new visual storybook Monday to its Twitter and Instagram called The Book of Noodle. It's a short, animated adventure featuring the band's guitarist, Noodle, disguising herself as a geisha to infiltrate the Toyko underground and slay an shape-shifting evil.
With 12 tweets and one severed head, excitement for the Gorillaz long-teased fifth release, their first in six years, has been reignited in a big way. 
We have few details about the new album, which many have been referring to as "Phase Four," based on the band's habit of describing its previous iterations as "phases." It's currently slated for a 2017 release, as a Gorillaz fan account shared in June. The post relates Hewlett described the album as "special, really fuckin' special" and that it "can't be rushed." 
The snippets of the information we do have about the album confirm that impression. They seem to point to it being as much of a stylish, genre ambiguous romp as anything from their storied past.
Albarn is aiming for a more "upbeat" release.
A year ago in October 2015 when news of a new album first broke, Albarn told fans that whatever the album was going to sound like, it was going to be fast.
"It's got quite a lot of energy," he told Rolling Stone. "I've been stuck on piano, somewhere off Broadway, for years now. I want to go somewhere completely opposite of that."
Later in an interview with Exclaim, Albarn helped clarify just how fast the record it was going to be, saying he was setting "a benchmark of 125 bpm and nothing underneath that."
The band has already linked up with some hip-hop veterans.
The legendary trio De La Soul have worked with the Gorillaz twice before — once on the group's biggest U.S. single to date "Feel Good Inc." and Plastic Beach's "Superfast Jellyfish." Guess what? They're linking up for another go around.
Albarn featured on "Here in After" off De La Soul's August-released And the Anonymous Nobody... and they returned the favor, hopping on one of the tracks on the new album. "We actually sat down with [Albarn] two weeks ago and he played us some of the new Gorillaz album, and it sounds amazing," De La Soul's Pos told the Guardian in a recent interview, confirming the collaboration and revealing that Snoop Dogg will also likely have a spot. The Doggfather previously offered vocals to the Gorillaz's "Welcome to the World of the Plastic Beach."
One of Chicago's finest rising talents will make an appearance.
In May, an Instagram from producer and frequent Gorillaz collaborator Remi Kabaka captured Chicago rapper Vic Mensa getting down in the studio with the animated band. Mensa's connection with the band dates back at least to 2014, when he appeared during the band's 2014 Governors Ball set to rap Del tha Funky Homosapien's verse on "Clint Eastwood."
The roster of collaborators is going to be eclectic, to say the least.
In April, Hewlett let a few studio secrets slip on his Instagram. He shared two clips featuring British singer Liam Bailey knocking around in the studio with producer Twilite Tone and French electronic pioneer Jean Michel-Jarre. 
There's no music playing in either video other than a brief moment of Twilite Tone singing and dancing a quick hook. "That's like a bomb!" he seems to say at the end.
The best guess we have about the new sound is the group's one-off collaboration with James Murphy and André 3000.
The most recent taste of the Gorillaz fans got was the band's Converse-sponsored single "DoYaThing," featuring vocal contributions from James Murphy of LCD Soundsystem and André 3000 of Outkast. The track fits the uptempo feel Albarn claims he's aiming to capture, but obviously only he can say how much of the album will follow suit. If Monday's The Book of Noodle tease is any sort of sign, though, fans may have answers sooner rather than later.
The visual aesthetic may be a lot more psychedelic this time around.
In discussing the new direction of the Gorillaz's visual presence, Hewlett told NME in October 2015 fans should expect the unexpected. 
"It's going to change – I can't tell you how," he said. "But of course it's going to be different, I can't do what I've already done, that's not interesting to me. In the same way [Albarn] changes with his music and moves forward, I do the same. It's going to be a different look."
A lot of what Hewlett's shared so far on his Instagram shows he's not messing around. Many of the designs he's shared have a trippy, 3-D aesthetic. The Gorillaz may be going way down the rabbit hole for phase four. Check a few samples below, and peep more on the artist's Instagram: @hewll.