The new Nintendo Classic Mini/NES Classic Edition is almost too much nostalgia to handle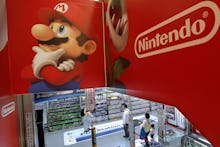 The NES Classic Edition — a miniature version of the classic Nintendo Entertainment System — is poised to be a popular gift this holiday season. The mini NES will cost $59.99 and come with a controller, HDMI and USB cords and 30 pre-loaded games. To rev up anticipation for the fun-sized version of the NES, Nintendo U.K. has released a promo video absolutely soaked in nostalgia. 
The video pays homage to the vintage system and its games — many of which went on to start worldwide franchises. Around the video's halfway point, Nintendo U.K. introduces the NES Classic Edition (or the "Nintendo Classic Mini" as it'll be called on U.K. shelves) and several of its new features, including HD capability, varying display options and "suspend points," which allow players to save their progress — a feature that was unavailable in most of the pre-loaded games' original iterations. 
Not included in the trailer is the fact that all of the games' original manuals can be viewed by scanning an onscreen QR code with a smart device (i.e. smartphones and tablets). The console arrives on shelves on Nov. 11. Below are the 30 games that will be preloaded on each system:
Balloon Fight