Regina Spektor's dazzling new 'Remember Us to Life' deftly balances quirk and pop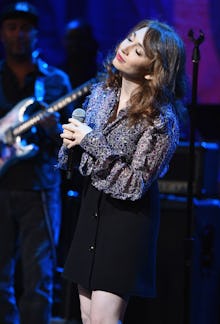 From the first bars of Regina Spektor's dazzling new album Remember Us to Life, it's clear we're not wholly in the artist's quirky, minimalist wonderland anymore. Synths and sparse drum-machines, rarities in Spektor's universe, lay the groundwork for some surprisingly poppy hooks. And while the album's first track, "Bleeding Heart," is certainly sad — "You're at the back of the class/ In the back of the bus," Spektor sings. "Sitting out at the dance/ Always saying 'no thanks,'" — the melody and beat are actually danceable. 
All told, the song does a good job of setting listeners up for what to expect on Remember Us: It's far more accessible than some of the earlier releases that made Spektor the queen of pre-recession quirk pop, but it's still far enough from radio fare for indie diehards. 
It's a sound that makes sense given this point in Spektor's career and the timing of her release. It's hard to think of a vocalist with more indie-gone-pop street cred than Spektor, who's performed for hipster-in-chief President Barack Obama not once, but twice. She's certainly not the only artist mixing the pop into the experimental (or vice versa): Lady Gaga has been recording with Tame Impala's Kevin Parker for her upcoming album; How to Dress Well recorded a Care track with Jack Antonoff, lead singer for Bleachers and go-to songwriter for Taylor Swift; Carly Rae Jepsen's Emotion leaned on Dev Hynes and Ariel Rechtshaid more than Billboard formulas. However, Spektor is leaning on her own talents here, as iconoclast and content to go it her own as always, and her songwriting is as sharp as ever. 
There is still a sensibility imbued with equal parts irony and melancholy that permeates the album, which Spektor's fans will quickly recognize. "Older and Taller," for instance, sounds more like a Jenny Lewis tune in its easygoing rootsiness. The album's third track, "Grand Hotel," is quintessential Regina — majestic piano trills coupled with clever, scene-setting lyrics. 
Somewhere below the grand hotel
Spektor's rendering of whimsical yet faded gentility is so vivid that multiple critics naturally likened the song to the Wes Anderson film Grand Budapest Hotel. And for good reason: Anderson's film is about a quasi-Soviet hotel whose most glamorous days are behind it, and Spektor famously left the Soviet Union during Perestroika, leaving her piano behind. Additionally, Anderson balances an ostensibly sad story with meta-devices and a conventional caper-like plot; on Remember Us to Life Spektor balances songs about anxiety with hooks and an added degree of accessibility. 
That said, there's still a fair amount of material here that evokes Spektor's traditional sound, especially on the final third of the album. "Sellers of Flowers," for instance, recalls Spektor's brand of classic, piano-driven folk and is almost gothic in its depiction of beauty as fleeting. "Who is the winner?" she asks, "Not the roses/ Not the buyers/ Not the sellers."
There are a few clunkers, however, and not all of Spektor's experimentation feels like it belongs. 
"Small Bill$," for example, throws a hell of a curve ball the audience's way, and it doesn't land comfortably by any stretch of the imagination. The cello-driven baseline draws the listeners in, and there's something kind of irresistible about the way she trills her voice on the words "Coca Cola," but Spektor's talk-singing is hard to take seriously and enjoy with the usual smirking glee her songs evoke at their best.
Still, there's no denying this is an album brimming with really beautiful songs. "The Light" already seems destined for iconic indie film placement. It's definitely a little sentimental, but the way Spektor builds to the bridge — bringing in just the right amount of strings — is breathtaking. 
Spektor won't make you laugh quite so much on this album as she has in the past. Although, to be fair, few songs are as funny as Spektor's, who on Begin to Hope summed up urban summers with the phrase "Cleavage, cleavage, cleavage."
It's hard to keep one's music simultaneously surprising and familiar seven albums deep, and Remember Us to Life manages quite well. She proves she can still be a little strange while sampling more conventional sounds. It won't speak to everyone, but when it works it works.