Donald Trump has avoided Spanish-language TV interviews since June 2015, report shows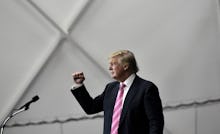 Whether by phone or in person, Donald Trump loves a good media hit. But when it comes to Spanish-language media in particular, Trump no esta aquí.
According to a video report from Media Matters published Monday, Trump hasn't sat down for an interview with a Spanish-language TV news network since June 2015 — the month he first announced his candidacy for president.
His final such interview was on Telemundo with José Diaz-Balart, who grilled Trump that month about comments he made during his campaign announcement — when he equated Mexicans with "rapists," and claimed their country was "not sending [its] best" immigrants to the United States. 
In fact, Trump has spent much of the 15 months since then taking shots at Univision, traditionally one of the highest-rated Spanish-language networks in the U.S. He sued sued the network for $500 million in June 2015, when Univision nixed plans to air the Miss USA and Miss Universe pageants, which Trump co-owned at the time.
Trump also doxxed Univision anchor Jorge Ramos after he wrote Trump a note asking for an interview, then mocked the network for "begging" him to speak with them. The antagonism continued when Trump threw Ramos out of an August 2015 press conference, then when his campaign denied another Univision team access to an event that October. 
According to Politico, Trump has also doubled down on his "English-only campaign" by opting not to publish a Spanish-language version of his website, or run Spanish-language ads. 
Trump's disappearance from Spanish-language media may do him harm come Election Day: Clinton's running mate Tim Kaine heavily touts his Spanish-speaking credentials, and she's run Spanish-language ads featuring Hispanics speaking out against Trump. 
Clinton has also appeared on Hispanic-focused and Spanish-speaking networks more recently — including a Jan. 11 Brown & Black Presidential Forum hosted by Fusion, and a June sit-down with Univision.