iPhone 7 Plus vs. Galaxy Note 7: Here's how the cameras compare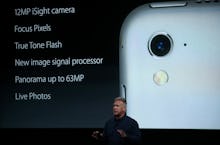 Apple and Samsung devices are renowned for their photographic abilities, so how do the latest entries stack up? Here's how the iPhone 7 Plus and Galaxy Note 7 cameras compare.
Specs: Both the iPhone 7 Plus and Galaxy Note 7 sport 12-megapixel primary cameras in the back. The iPhone 7 Plus has a slight advantage in the front with a 7-megapixel selfie camera, whereas the Galaxy Note 7 has 5 megapixels. The tide then shifts backs to the Galaxy Note 7 with f/1.7 aperture; the iPhone 7 Plus is slightly behind with f/1.8 (lower numbers mean it lets in more light) for its primary wide-angle camera. The telephoto back camera has an aperture of f/2.8 — more on this later. 
Features: Optical image stabilization, auto HDR, touch focus, 4K video recording, LED flash, geotagging and face detection are all present in both devices. The big iPhone 7 Plus feature that stands out is the addition of a second lens. Though Apple has incorrectly branded it as a true telephoto lens, it does share similar qualities (2x optical zoom) and works in unison with the standard wide-angle lens to produce high-quality images. It sounds like Apple may come out on top, right?
Verdict: Not exactly. While Apple has generated a bunch of hype over its new dual-lens camera technology, many test shots show the Galaxy Note 7 coming out in top when it comes to landscape scenes. Samsung's smartphone seems to render more vibrant and detailed images, though Apple may does have a trade-off advantage: portrait mode. The feature, which arrives with the upcoming iOS 10.1 update, allows the iPhone's camera to imitate depth of field, creating an attractive "bokeh" effect. From what we've seen, it's the closest to simulating DSLR-quality photos. 
Specs-wise, the devices are pretty even. Samsung may have the edge when it comes to landscape photography, but Apple's new portrait mode is a lovely addition. If your smartphone decision hinges on its camera, go with the function best-suited to your photography style.