What's the MacBook Pro 2016 release date? New reports suggest we're getting closer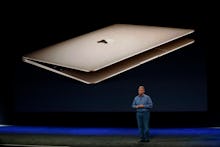 Good lord, I can't wait for the 2016 MacBook Pro to be released. My 2014 laptop runs out of storage once a week, it's heavy as heck and it's becoming outdated fast. According to the latest rumors and leaked specs, Apple's MacBook of the future reportedly boasts a thinner, lighter body, a digital display at the top of the keyboard, Touch ID and USB-C support (which means super-quick file transfers!), a larger trackpad and the (frankly uncomfortable) flat keyboard you'll find on the current MacBook.
So... when does the 2016 MacBook Pro come out? We don't have a specific date yet, but all signs point to an announcement in early October and release in late October — possibly along with an updated iMac. 
According to MacRumors:
The machines could debut as soon as October, and based on upcoming software release plans for macOS 10.12.1, Apple is aiming to finalize the software with features for the new MacBook Pros on October 7, suggesting a late October launch for the new machines.
It's a shame the laptop wasn't announced with the iPhone 7 in September, but at least we have a surprise release to look forward to. If the MacBook Pros sneak into the Apple Store as silently as a trackpad tap, trust that Mic will be on high alert. Stay tuned for updates.