Hurricane Matthew 2016 path update: Haiti hit with "life-threatening" conditions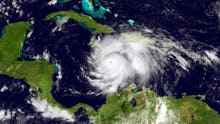 Hurricane Matthew made landfall near Les Anglais, Haiti, at 7 a.m. this morning, pelting the small island nation — still recovering from a devastating 2010 earthquake — with rain and wind that could lead to "life-threatening" conditions, according to a U.S. National Hurricane Center bulletin Tuesday morning.
Maximum winds are already near 145 miles per hour, and the hurricane could bring up to 40 inches of rain in certain parts of the country. That rainfall will likely trigger "life-threatening flash floods and mudslides," the NHC warns. Water levels in Haiti could rise up to 10 feet higher than normal.
Matthew is moving northward at a rate of 9 miles per hour, according to the bulletin.
"We are looking at a dangerous hurricane that is heading into the vicinity of western Haiti and eastern Cuba," Richard Pasch, a senior hurricane specialist with the National Hurricane Center, said before the storm made landfall in Haiti, according to the Associated Press. "People who are impacted by things like flooding and mudslides hopefully would get out and relocate because that's where we have seen loss of life in the past."
Authorities said three people have died in connection to Hurricane Matthew in the past week, CNN reported, included a fisherman in Haiti who died on Sunday.
Haiti, the poorest country in the Americas, is still recovering from the 7.0 magnitude earthquake that hit on Jan. 12, 2010 and the cholera epidemic that followed. 
Many residents live in flimsy dwellings in areas prone to flooding, the AP reported. Officials reportedly encouraged people to relocate to shelters set up in churches in schools, and went door-to-door warning residents of Hurricane Matthew's threats.
As the country braced for the worst of the storm, some families did what they could to reinforce their homes, according to the AP.
"I know my house could easily blow away," one Haitian woman, Ronlande Francois, told the agency. "All I can do is pray and then pray some more."
Oct. 4, 2016, 8:05 a.m.: This story has been updated.