WikiLeaks promised a Hillary Clinton bombshell. Instead, they trolled us all.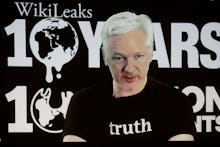 Julian Assange trolled the internet — and much of the world — Tuesday, getting thousands to tune into a glorified informercial for WikiLeaks and his new book by teasing he would be dropping a surprise in October on Hillary Clinton.
But Assange didn't release any documents. Instead, he again moved the goal post for when new documents related to the election would leak — saying they'd come before the end of the year.
"We are going to need an army to defend us from the pressure that is already starting to arise," Assange said via live video feed into a press conference to celebrate WikiLeaks' 10-year anniversary, NBC News reported.
Top supporters of Donald Trump — including noted conspiracy theorist Alex Jones and political operative Roger Stone — had hyped Assange's press conference, saying he would release documents that would end Clinton's presidential bid.
Stone's tweet caught on, leaving Trump supporters salivating for the promised election-changing documents.
Trump supporters and Clinton haters alike gathered on Twitter in the wee hours of the morning during Assange's press conference, waiting for him to drop the goods.
But soon hours passed, and all they had heard were glowing comments about WikiLeaks' past accomplishments and praise for Assange.
When Assange finally appeared via video conference from the Ecuadorian embassy in London — where he's hiding to avoid extradition to Sweden to face rape charges — Assange said there would be no document dump.
Instead, he touted his own book and moved the marker on a document dump, saying it would come before the end of the year.
Trump supporters quickly turned on Assange, saying they were duped into watching an infomercial for WikiLeaks.
They even used the hashtag #Wikirolled, a reference to the "Rickroll" — an internet trick that promises big news but merely sends those who click on a link to a video of Rick Astley's one-hit wonder, "Never Gonna Give You Up."
Mic has ongoing presidential coverage. Please follow our main election hub as well as coverage of Donald Trump and Hillary Clinton.