Gigi Hadid fights beauty standards as the new face of Reebok's #PerfectNever campaign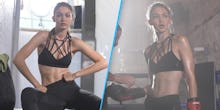 Two weeks after physically defending herself against an attacker in Milan, Gigi Hadid is putting those moves to good use as the new face of Reebok's #PerfectNever campaign, which aims to fight against unrealistic standards of perfection. 
In the campaign's first video, Hadid is seen taking jabs directly at the camera, looking like a far more glamorous Rocky Balboa. 
Though it may seem ironic that one of the most successful models out there, who happens to be white, thin, tall and blonde, is telling us to fight against beauty norms, Reebok says that Hadid fit with the campaign's core values, which mix both fitness and empowerment. 
"[Gigi Hadid] has always turned to fitness and exercise to stay grounded, to keep her mentally focused and give her daily motivation to push through adversity," Dan Mazei, a senior director at Reebok, said in an interview. "We couldn't be prouder of this relationship. We feel the story of #PerfectNever is written through the strength and tenacity of people like Gigi, and that we have the opportunity to inspire and empower millions of women around the world."
Before Hadid, UFC star Ronda Rousey, who has faced rampant criticism of her looks, was the sole face of the campaign, with a similar boxing video of her own. But if Hadid and Rousey seem like a mismatched pair to you, remember that as famous women, they have both been pressured by society to look a certain way, and in turn used fitness to help drown those voices out. 
"When I was a competitive athlete, I used to be so focused on being perfect that my coaches would take me out of competing altogether," Hadid said in a press release. "I'd focus on my mistakes which would breed more missteps — a domino effect. Until I learned to change the channel, to re-focus, re-set. It was my mistakes, my imperfections that motivated me most." 
Still, it is ironic that a supermodel who has walked the runway for Chanel and appeared in all-white campaigns for Versace says we should be fighting against beauty standards when she seems to be checking the boxes on many of the beauty standards women are held up to now. 
In a video released by MTV News in May, women called out how harmful it can be when we're all told by society that white beauty standards (meaning tall, thin, white and blonde) are what we should be aspiring to. 
"The problem is that all these social messages you get about what is and who is beautiful influences who you think is beautiful," Danielle Henderson, the writer and creator of Feminist Ryan Gosling, says in the video. "Representation matters and it matters because we can raise an entire generation of people who don't carry this cultural baggage with them."
And now here is Hadid, telling us that we should be ignoring the people who are telling us to look like her, not that that makes it her fault. It's just that women are out there who have been very vocal about actively fighting beauty standards, like Leslie Jones or Danielle Brooks or Ashley Graham, but they're not the face of this campaign. 
What is refreshing about this campaign is that the focus is on strength rather than beauty, and that Hadid is a woman who likely knows all too well about the pressures women are under. Because even if you're a female supermodel who is tall, thin, blonde and hugely successful, that doesn't mean society wants to give you a break.