Marvel's 'Iron Fist' series finally has a release date — here's when it hits Netflix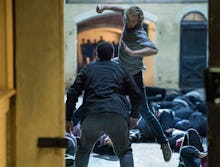 After the show-stopping — and possibly Netflix-crashing — debut of Luke Cage on Friday, the streaming service has confirmed the next Marvel series on deck: Iron Fist. Per a short video announcement, Iron Fist will make its Netflix debut on March 17, 2017. 
Iron Fist will be the fourth Marvel series following Daredevil, Jessica Jones and Luke Cage. The titular superhero is the last set to comprise The Defenders — an Avengers-like team in New York that includes Daredevil, Jessica Jones and Luke Cage. That series will debut sometime later in 2017. 
But unlike its Netflix counterparts, Iron Fist's development has been riddled with controversy. Casting of Game of Thrones alumnus Finn Jones as the titular hero earned the series a great deal of backlash, given the character's martial arts background. Fans hoped Marvel would right a previous wrong and cast an Asian-American actor for a role that was whitewashed in the comics. 
Whether that is a detriment to Iron Fist remains to be seen — but in the meantime, fans should keep March 17 marked in their calendars next year.