Kanye West pushes tour dates after Kardashian robbery — what to do if you have tickets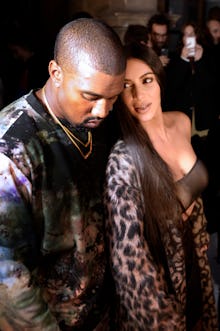 For Kanye West, his shows come second to the health and safety of his family. After cutting his set short at the inaugural Meadows Festival to be with his wife Kim Kardashian West after she was bound and robbed at gunpoint in Paris, the family man has announced there are even more cancellations to come. 
"Due to family concerns, this week's Philadelphia and Detroit dates on the Saint Pablo Tour have been rescheduled," Live Nation said in a statement. "The [Oct. 4] Philadelphia show will take place on Dec. 13 and the [Oct. 6] Detroit show on Dec. 22."
Fans who paid top dollar for tickets to what's been hailed as the "best concert of all time" and a brilliant mindfuck will have to wait a little longer for its mastermind to get back in the right headspace. Thankfully, ticket holders can use their original tickets to attend the new dates. If they can't, then the standard Live Nation rules apply: "Refunds are up to the artist, team, venue, or promoter – but we'll do everything we can to help," the company's website reads. Ticket holders should contact them via email or phone.
Neither West nor Kardashian West have spoken publicly since the robbery, in which thieves dressed as policemen stole over $11 million worth of jewelry. The attackers gained access to Kardashian West's apartment block by reportedly threatening the night guard with a gun. They bound Kardashian West with packing tape, but left her otherwise uninjured before fleeing on bicycles.
Kardashian West's publicist said the star was "badly shaken but physically unharmed," to the chagrin of a swath of internet trolls who took to Twitter to blame her for her own misfortune.
The investigation is still ongoing, but some rumors suggest the robbery was an inside job.
"After an incident like this, many people begin to re-evaluate their priorities," Jean Twenge, a psychology professor at San Diego State University and co-author of The Narcissism Epidemic, told USA Today. "If she reacts the way most people would, she might focus more on what we call intrinsic values — family, friends and community — rather than extrinsic values such as money, fame and image."
It seems Kanye is doing the same, at least for now. The show that will welcome West back to the grind will take place in his hometown of Chicago at the United Center Friday, Oct. 7.