Here's how much money older vs. younger millennials have saved — it's not pretty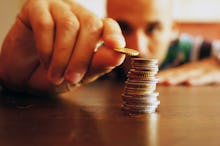 Americans are facing a savings crisis and older millennials might be finally catching on — or at least that's what the results of a new survey from GoBankingRates suggest.
Nearly twice the proportion of millennials aged 25 to 34 — compared with 18-to-24-year-olds — have $10,000 or more stashed away, the survey found. While 15% of the older bunch have at least that, only 8% of the baby-faced group have $10,000 or more.
That's a good sign, since older millennials certainly need to be saving more, but the overall picture is grim, the survey results showed.
Millennials — and Americans of all ages — are in big trouble. The majority have less than $1,000 saved up at all, the survey found.
Alas, that shortfall isn't getting better: Between 2015 and 2016, there was actually a 7% jump — from 62% to 69% — in the proportion of respondents who said they have less than $1,000 in savings. 
More than 1 in 3 Americans have literally zero savings, while roughly another third has less than a grand, according to the survey.
But there were some silver linings in the survey, at least for older millennials.
The group aged 25 to 34  is actually a little better at saving the bare minimum than members of Generation X, aged 35 to 54: While 33% of older millennials said they have at least $1,000 saved, only 32% of young Gen X-ers and 30% of older Gen X-ers said the same.
Many financial planners recommend saving enough in a bare-minimum emergency fund that you'd be able to cover living costs for three to six months — which for most people means way more than $1,000.
If you're among the paltry savers, it will pay off to take proactive steps to free up extra cash like cutting back on costly bills, asserting yourself and negotiating your rent or asking your boss for a raise.
Still having trouble?
Zoom in on spending habits you'd like to change.